"If you can't communicate science," Randy Olson wrote, "then you may as well not have done it."
Explaining research to the public is a challenge for many scientists. One way the Wiki Education Foundation's Classroom Program can enhance class assignments is by encouraging students to consider science communication issues while conducting their research.
Ariana Hall and Sydonie Schimler, from Anne McNeil's Organic Chemistry of Macromolecules course at the University of Michigan, were two of the 1,400 student editors that participated in the spring 2014 term.
The pair worked to balance academic rigor with accessible language, and their contributions were featured on the "Did You Know?" section of Wikipedia's front page on April 12, 2014, resulting in a ten-fold increase of traffic to that page.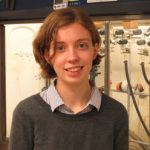 "I was excited about this project," Hall said. "I thought it was a good opportunity to research a new topic and practice writing about science for a general audience … our work seemed more impactful than a typical exam or paper. I enjoyed writing something that would be read by a broader audience than my course professor."
First the pair identified a gap on Wikipedia's science pages, settling on the historical significance of polyacetylene.

"The discovery that polyacetylene was a conducting organic polymer was enough to warrant a Nobel Prize in Chemistry in 2000, so we figured that it deserved a better, more easily readable description in a Wikipedia article," Schimler said.
Campus Volunteer Ye Li, who is also the Chemistry Librarian from the University of Michigan Library, offered advice to guide Hall and Schimler through Wikipedia, from etiquette and image uploading tips to tools for finding resources to cite.
"We also got some great feedback from our reviewers on how to make the page more aesthetically pleasing and more accessible to non-scientists," Schimler said.
While both students agreed the coursework was equal to that of a typical assignment, the challenge of writing for both scientists and the public lead them to appreciate issues in science communication.
"I had to really think about what I chose to include in the article, so that everyone could understand it and gain something new from it," Schimler said. "It was a nice change to write something both more general, but also scientifically detailed."
The knowledge Schimler and Hall compiled for their course lives on as a public resource. Along the way, the pair developed additional skills by describing their findings to a broader audience. Both are open to contributing to Wikipedia in the future.
"I think Wikipedia can be a great source for learning about science, particularly when there are good references," Hall said.
Eryk Salvaggio
Communications Associate