Every week we focus on quality articles that student editors have contributed to Wikipedia.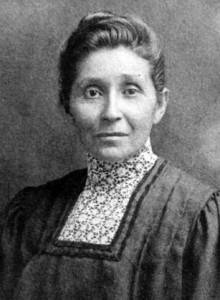 This week, we look to Boston College's History of the American West course, taught by Dr. Marilynn Johnson, focusing on American history west of the Mississippi.
Read about the first Native American woman to become a physician in the U.S. (an article that's three times as long, thanks to a student editor).
Learn how the invention of barbed wire led to shootouts and the transformation of the open range, in an article created by a student (and given the nod to appear on Wikipedia's main page in the "Did You Know" section). Read about how racial violence drove southern blacks into Kansas, Oklahoma, and Colorado in 1879, and about the bloody Kansas uprising that led abolitionist John Brown to declare, "I have only a short time to live – only one death to die, and I will die fighting…"
Fur company rivalries shaped the exploration of the West. Mule Skinners and Bullwhackers were often caught cursing as they traveled the Oregon trail's shorter sister.
In Texan San Diego, Mexican revolutionaries hatched a plan to overthrow the US government in the southwest. People could enter "a utopia of cattle ranching, mountain men, blazing sun, and exciting pioneer life" — for just ten cents. Or, finally, discover where the bison hung out.