"I am a Wikipedia editor," writes Alicia Pileggi, a student in Dr. Adeline Koh's Feminist Theory course at Richard Stockton College of New Jersey. For that course, Alicia edited the article "Feminist Digital Humanities."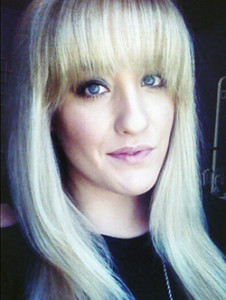 "Wikipedia is an amazing forum for anyone to participate in Feminist Digital Humanities," she told us. She said she saw Wikipedia as a way to strengthen women's voices by documenting the lives of women, and contributing quality content about feminism. That meant drawing a direct line between studying Wikipedia and contributing to it. "It's one thing to study theory, but it's a powerful thing to get an opportunity to put theory to practice."
Alicia is a HASTAC scholar and an intern with the Digital Humanities Department at Richard Stockton College. She's also a blogger, and will be working on social media for Stockton's board of trustees this spring. But this was her first foray into Wikipedia.
"I honestly never gave much thought to how edits were made or how the information on Wikipedia got there," she said. "In my first few edits I had other editors contact me within a day about correct formatting of citations … This was both intimidating and exciting, to realize I was a part of a network of editors who were paying attention to what I was doing. It pushed me to strive for better edits, knowing that there was a community both noticing the good work I did, but also anything that didn't meet their standards."
Once she'd learned the ropes, however, Wikipedia presented an opportunity that aligned with Alicia's interests in raising social awareness.
"As with many web-based academic forums and archives, Wikipedia has been accused of having a sexist bias running throughout its articles. This may be due to the lack of women editors," she said. Pointing out Wikipedia's gender gap, she mentioned a study from the Wikimedia Foundation that found "women only contribute to editing 13% of the articles on Wikipedia," and quoting Sue Gardner, mentioned that the typical editor is a young man. "Without diverse representation in the editing community, there is a tendency for this gap to be reflected in an under-representation of a large group of people and concerns in the articles. This is exactly what Feminist Digital Humanities addresses and looks to repair. So by just taking the time to edit Wikipedia, you can be a part of Feminist Digital Humanities efforts."
She worked to maintain a neutral tone throughout her article, "much like the process for any research paper. You must write in a non-biased, non-personal tone, with all information backed up with secondary sources," she said. She edited sentences at a time, to make sure other editors could easily track what she was doing and offer guidance along the way. "It's definitely different to know that your work is in collaboration with a whole network of contributors."
Alicia is proud of the contributions she made to Wikipedia, expanding Feminist Digital Humanities out of its stub status. "Where a paper will most likely only be read by a single professor, these edits are documented on the web for all to see. While the stakes are high, so are the rewards. There is much gratification in leaving your personal mark on something that will help others to learn."
These are the reasons Dr. Koh said were behind her contributions to Wikipedia. "Students were scared by the assignment but also felt it was completely rewarding," Dr. Koh told us, "much more than a final research paper, because they could see the tangible results of them actually contributing to knowledge."