Highlights
The Wiki Education Foundation released its annual plan for fiscal year 2015–16. The plan reports on the first year of our work, and looks ahead to what we'll set out to achieve in our next fiscal year (July 1 through June 30). Our biggest goals include scaling the impact of our Classroom Program, the Year of Science initiative, and deepening connections between academia and Wikipedia.
Sue Gardner and Shadi Bartsch-Zimmer were elected to the Wiki Education Foundation board. Gardner was the Executive Director of the Wikimedia Foundation from 2007 to 2014. Dr. Bartsch-Zimmer is the Inaugural Director of the University of Chicago's Stevanovich Institute on the Formation of Knowledge.
We've launched a new course management tool, the Dashboard. The Dashboard fully handles the course setup and assignment design process, and gives an even better picture of what student editors are doing throughout the term. Pages are created on Wiki Ed's website, wikiedu.org, and mirrored on Wikipedia. This gives Wiki Ed the option of developing the platform independently, and to make relatively quick adjustments as we scale, adopt new programs, and improve our understanding of best practices.
Our final numbers for the spring 2015 classroom program are in. We supported 117 courses, more than ever before, and up from 98 courses in the fall. We supported 2,326 student editors who contributed roughly 2.5 million words to 3,429 articles, which were read by 101 million readers — that's more than the population of Germany.
Programs
As outlined in our Annual Plan, we've re-organized our former Programs and Research & Development departments into three separate departments: Programs, Program Support, and Program Innovation, Analytics, and Research.
The Programs department houses our core programmatic work: the Classroom Program (led by Classroom Program Manager Helaine Blumenthal), our Educational Partnerships (led by Educational Partnerships Manager Jami Mathewson and assisted by Outreach Manager Samantha Erickson), and Community Engagement work, including the Visiting Scholars program (led by Community Engagement Manager Ryan McGrady).
Program Support work includes our technology development (led by Product Manager for Digital Services Sage Ross), communications work (led by Communications Manager Eryk Salvaggio), and support for new editors (led by Wikipedia Content Experts Adam Hyland and Ian Ramjohn). LiAnna Davis moves to become Director of Program Support, and we are hiring for a new Director of Programs.
We're slated to begin hiring for the Director of Program Innovation, Analytics, and Research in the fall, with LiAnna overseeing this area in the meantime. As a programs-focused organization, we're excited to be expanding our offerings.
Educational Partnerships
Jami attended the annual conference for the International Association for Feminist Economics (IAFFE) in Berlin, Germany. Wiki Ed and IAFFE members have worked together in the classroom, and have collaborated to find and improve content gaps in economics. Jami, alongside Wiki Education Foundation Board Chair Diana Strassmann and University of Utah Economics Professor Gunseli Berik, hosted a presentation focused on teaching with Wikipedia as a means to improve public scholarship in feminist economics. Conference attendees came from a variety of disciplines, and through discussions, many have committed to teach with Wikipedia in their next course.
Wiki Ed has been discussing a Year of Science collaboration with the Association for Women in Mathematics. The members of this association are a great fit, as their students would edit math articles as well as biographies about women mathematicians.
Jami and Samantha attended the American Society of Plant Biologists (ASPB)'s annual conference in late July, which served as Wiki Ed's first in-person roll-out of our new course design and management tools to new instructors. The feedback was overwhelmingly positive, and we've already had ASPB members sign up to teach with us in the fall term. ASPB is recommending Wikipedia assignments to its members, as they wish to expand the quality, depth and breadth of content and experiential learning opportunities on Wikipedia about plant science.
Classroom Program
Our final numbers for the spring 2015 term are in. In the spring, we supported 117 courses, more than ever before and up from 98 courses in the fall. We supported 2,326 student editors who contributed roughly 2.5 million words to 3,429 articles, which were read by 101 million readers — that's more than the population of Germany!
Status of the Classroom Program for the summer 2015 term as of July 31:
14 Wiki Ed-supported courses had Course Pages (5, or 33%, were led by returning instructors)
214 student editors were enrolled
165 (or 77%) students successfully completed the online training
Students edited 1370 articles and created 41 new articles
After a busier than usual summer term at Wiki Ed, we are gearing up for the fall 2015 term. We're anticipating a large number of classes for the fall, and the new Dashboard (see Digital Infrastructure section, below) should help us as we scale.
Student work highlights:
Behavioral Communication was expanded from 529 to 1509 words by students in the University of Detroit, Mercy's Social Psychology class. They turned a poorly referenced article written with a distinctly non-encyclopedic tone into a non-biased and well-referenced article.
Students in Amherst College's Rotherwas Fellows course added well-written and well-sourced material to Rotherwas Room They also uploaded media and incorporated images from their own library collections.
Community Engagement
July marked the launch of the Wikipedia Visiting Scholars program. A Visiting Scholar is an official university position for experienced Wikipedia editors who are granted remote access to library research resources. These Visiting Scholars use those resources to improve Wikipedia content in one of the university's focus areas. Ryan announced five open positions at five educational institutions in a Wiki Ed blog post on the program. In preparation for the announcement, Ryan and Eryk continued to develop informational materials for our website and for the program's Wikipedia page.
The five open Wikipedia Visiting Scholars positions are:
DePaul University: focused on Chicago history, Catholic social justice studies, and/or Vincentian Studies (including French history during the Napoleonic Era)
McMaster University: emphasizing peace and war (with a particular emphasis on the Holocaust and resistance), Bertrand Russell, Canadian literature, and/or Canadian popular culture
Smithsonian Institution: particularly Modern African art and artists
University of Pittsburgh: focusing on Pittsburgh and Pennsylvania history, Colonial American history, historic American songs, and/or philosophy of science
University of Washington: interesting especially in labor and working classes in the Pacific Northwest, Pacific Northwest history, Pacific Northwest literature, and/or Pacific Northwest architecture
Each institution is working on its own selection schedule, but every position has received applications from qualified Wikipedians.
Ryan has continued to develop the program and its processes, working with Jami and Samantha on outreach strategies and Sage on adapting Wiki Ed's tools for Visiting Scholars.
Program Support
Communications
Eryk spent much of July updating training materials for instructors ahead of the fall 2015 term, and supporting staff with materials for the Wikipedia Visiting Scholars and Partnerships programs staff.
Eryk has also been working closely with Executive Assistant to the ED Renee LeVesque, Wikimedia DC, and Wikimedia NYC volunteers, and the communications staff at the National Archive to organize and promoteWikiConference USA. The conference will be held at the historic and symbolic National Archive building October 9-11.
Blog posts:
Press Releases:
Digital Infrastructure
Sage and the design team at WINTR have been focused on the rollout of our new dashboard.wikiedu.org course page system, which we are using for all courses beginning with the fall 2015 term. Our usability testing with new instructors provided a tremendous amount of information on what we should focus on improving. Most of our development work this month has gone into improving the course creation process. In late July, we opened up the new system for new and returning instructors to set up their courses, and we're continuing to polish up the user experience, fix bugs, and solve any key unanticipated use cases that come up as instructors put the system through its paces.
Sage also traveled to the annual Wikimania conference, in Mexico City, to connect with the wider Wikimedia world, and to work with developers interested in building on Wiki Ed's dashboard platform. Our hope has always been that our technology — free software that anyone can use and build upon — would find its way into other Wikipedia projects and other languages. During the hackathon, Sage worked with several Wikimedia Foundation developers to bring our dashboard work to users beyond Wiki Ed's own programs. The Outreach Dashboard is now up and running for trial projects — like edit-a-thons and other events, or courses outside of the US and Canada — on English Wikipedia. We also began putting together a roadmap for internationalization, so that Wikimedians in many different languages may eventually have access to their own Wikipedia dashboards. While Wiki Ed won't take on that work directly, we hope to work with others to build a strong community platform.
Program Innovation, Analytics, and Research
Summer Seminar
We kicked off a short pilot to investigate the potential for instructors interested in contributing content in their area of expertise during the summer. Our first Summer Seminar focuses on psychology, and instructors will instructors meet weekly for one month to learn how to edit Wikipedia articles. In July, Helaine and Ian set up the course page for the Summer Seminar in Psychology using Wiki Ed's new course dashboard. Enrollment for the program closed on July 24, and there are 20 participants signed up on the course page. Participants began doing preliminary work during the last week of July, with the first online session scheduled for August 6. Helaine and Ian are working closely together to make sure that the course covers a range of relevant topics related to editing psychology articles on Wikipedia, including an outline for the weekly online sessions.
Summer Research Fellowship
Andrew Lih joined the Wiki Education Foundation as our inaugural Summer Research Fellow in late July. The Summer Research Fellowship is a month-long pilot for a potential future program in which we'll host professors or graduate students to help us answer questions about our programmatic work. This summer, Andrew will create a strategy and select case studies for outlining how university libraries, museums, and archives could work with instructors, students, and/or the community of Wikipedia editors as part of the Year of Science.
Andrew is an ideal person to be our first Fellow. As User:Fuzheado, Andrew has been editing Wikipedia since 2003 and was one of the first to use Wikipedia as a teaching tool that year. He's taught numerous courses where he assigned students to contribute content to Wikipedia, including several affiliated with Wiki Ed's Classroom Program. His work connecting students to museums in Washington, D.C., as part of his Wikipedia assignment can be found in our Case Studies brochure. He is also a member of the GLAM-Wiki US Consortium Advisory Group.
Finance & Administration / Fundraising
Finance & Administration
Our second-year funding commitment from Stanton Foundation had already been received prior to June 30, 2015. As a result, we are comfortably starting our second year.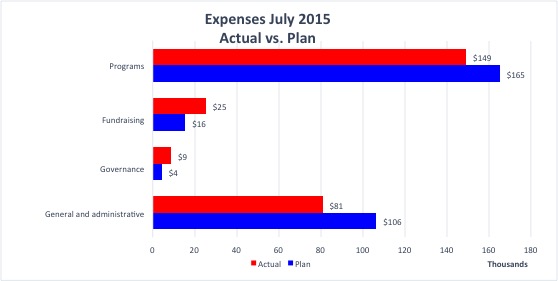 The month of July started our new fiscal year. Expenses for the month, and year-to-date, were $264,022 (91%) versus the plan of $291,420. The variance of $27k was mainly the result of delayed timing of expenditures in recruitment ($17k); outside contract services ($6k); and All Staff meeting ($5k), along with savings in promotional items ($7k). These savings and timing delays, helped to offset increased travel expenditures for fundraising and governance.
Fundraising
On July 23, we welcomed Victoria Hinshaw in the new Development Associate role. Victoria will work closely with Senior Manager of Development, Tom Porter, to conduct individual and institutional prospect research, assist with daily development activities, develop and maintain prospect tracking systems, and assist in the planning of fundraising events. Additionally, Tom Porter has activated key Wiki Education Foundation board members to connect to potential funders.
Board
The board welcomes Sue Gardner and Shadi Bartsch-Zimmer as new members. Sue Gardner is the former Executive Director of the Wikimedia Foundation where she oversaw the creation of the Public Policy Initiative, which later emerged as the Wikipedia Education Program and Wiki Education Foundation. Shadi Bartsch-Zimmer is currently the Inaugural Director of the University's Stevanovich Institute on the Formation of Knowledge, which examines the historical, social, and intellectual circumstances that give rise to different kinds of knowledge across different cultures and in different eras.
Office of the ED
Current priorities:

Securing funding for upcoming major programmatic initiatives
Filling the Director of Programs position
Setting up a monthly report card to track key organizational health and progress indicators
In early July, staff gathered in San Francisco for Wiki Education Foundation's second all-staff meeting. During five days, staff built a shared understanding of what the general team mandates and team key focus areas for next year are, kicked off a organization­wide team processes documentation, learned the basics of program evaluation, and set individual milestones for the first two quarters of fiscal year 2015–​1​6. Also, Frank and LiAnna provided every individual on staff with a performance review that covered the last fiscal year. As a social event, staff attended a "A History of the World in Ten Cheeses" presentation at the Cheese School of San Francisco.
Also in July, Shadi Bartsch-Zimmer hosted a meeting with Diana Strassmann, John Willinsky, Bob Cummings, Richard Knipel, and Frank Schulenburg at the University of Chicago. Board members and the ED discussed opportunities of future cooperation between Wiki Ed and the Stevanovich Institute on the Formation of Knowledge and continued their work on Wiki Ed's vision statement.
After signing the official partnership agreement with the National Archives, Wiki Education Foundation officially announced its support for WikiConference USA 2015. Proposals for workshops, tutorials, panels, or presentation can be submitted on the website for the conference.
Visitors and guests
Sabine Blankenship, Science Liaison Officer at the German Consulate General in San Francisco
Mathias Haas, Trend Researcher
Andrew Lih, Summer Fellow