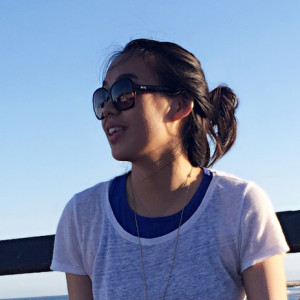 Ruqin Ren had always seen Wikipedia as a great starting point for her homework. She knew it was popular, and innovative, but had never paid it much thought. It wasn't until 2012 — after she'd earned her BA degree in Beijing and began her master's degree at Georgetown University — that she had good reason to take a closer look.
Dr. Adel Iskandar's course, "New Media: Dissidence, Innovation, Community" required students to contribute Wikipedia articles about war and violence journalism.
"As part of the class assignment, we needed to really learn how to edit wiki articles and participate in the online conversation around each topic," Ruqin told us. "That gave me a great opportunity to closely observe and think about how collaboration or conflict resolution works in an online knowledge community."
She liked the material she was studying, but she was more drawn to the dynamics of the community.
"People learn to collaborate or resolve conflicts in the process of making a piece of a good article," she said. She watched Wikipedians discuss topics and make decisions with fascination. That's when she decided, in her own words, that "Wikipedia is not only a platform — it is the subject."
Ruqin decided to write an empirical piece examining the collaboration structure of Wikipedia, and how it influences the performance of the community as a whole: "It's the editors' interactive social relations that collectively shaped Wikipedia into what it is now."
That paper ended up becoming her writing sample when she began applying for PhD programs. She was admitted to several prestigious communications schools, and is currently attending the University of Southern California's Annenberg School of Communications.
We met Ruqin when she was taping a poster to our wall as part of OpenSym 2015, and discussing her research, "The Evolution of Knowledge Creation Online: Wikipedia and Knowledge Processes."
"My research is still in studying online community network dynamics, collective knowledge production, using social network analysis, semantic analysis and other computational techniques," she told us. "So it all started with that class!"
Ruqin hopes her research will have a practical impact on how people understand networks, and how to engage conversations in online communities. One area she's exploring is applying what she's learned from the Wikipedia experience to other learning practices.
Ruqin says she's likely to use a Wikipedia assignment in her own syllabus designs.
"We learned to strategically plan before writing; how to collaborate with fellow students in the same article; conflict resolution — how to politely review and modify others' works. Additionally, students feel a sense of contribution."
We're always excited by academics embracing Wikipedia as a topic of study. But we're especially pleased to see the benefits of Wikipedia assignments taking root in a new generation of academic researchers and thought leaders in education.