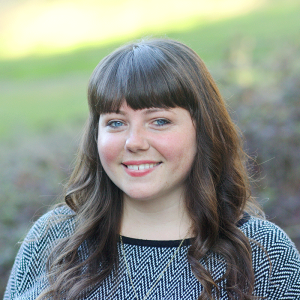 In the summer of 2014, I found myself thinking about Wikipedia's gender gap. I wanted to see more women contribute to Wikipedia and more articles important to women.
Roughly 10% of the Wikipedia volunteers who compile "the sum of all human knowledge" are women. This representation gap reflects what's missing in Wikipedia, but also what's included, leading to imbalances and misrepresentations.
Why does this matter? Wikipedia is a resource for readers, where millions of visitors seek information every month. When we improve articles about women, readers find more accurate and comprehensive information. After nearly 15 years, these gaps weren't being filled organically. That made it a natural place to look for articles that could be created by university and college students.
Wiki Ed believed that our resources could help students write about women's topics on Wikipedia. The National Women's Studies Association's (NWSA) members make up many women's studies departments in the US and Canada. We hoped NWSA would be enthusiastic about collaborating to bring better content about women to Wikipedia.
NWSA's mission promotes the production and dissemination of knowledge about women and gender. As advocates for high-quality public scholarship, they were a natural fit with Wikipedia, which, after all, is as public as scholarship gets.
Executive Director Allison Kimmich was an excited partner who believed the NWSA could help Wikipedia fill in missing content. So last year, we announced an official partnership between the NWSA and Wiki Ed. We engaged women's studies instructors at conferences, encouraging them to participate in Wiki Ed's programs and to help close the gender gap. We promoted their initiative through NWSA's various member channels. We developed an editing guide aimed at students creating or improving articles about topics related to women's studies.
Within months, we started to gain real traction. In the spring 2015 term, we supported five women's studies courses. That meant 200 new users improving 100 articles within their discipline. Already, we were seeing some outcomes from our gender gap outreach.
Then we struck gold, and saw the true potential of targeting content gaps through academic partnerships. Right now, Wiki Ed is supporting 26 courses related to women, gender, sexuality, and feminism. These students have already edited more than 500 articles, and the number keeps growing.
In mid-November, Outreach Manager Samantha Erickson attended the NWSA Annual Conference. This gathering of nearly 2,000 women's studies scholars was a great opportunity to share the Wikipedia initiative's successes and to recruit more women's studies instructors.
We asked these new instructors what caught their interest in Wikipedia assignments. Half of them mentioned improving Wikipedia's coverage of women and empowering women's voices and stories. A third cited the positive impact they say it would have on students' media literacy and critical thinking skills.
We also connected with students.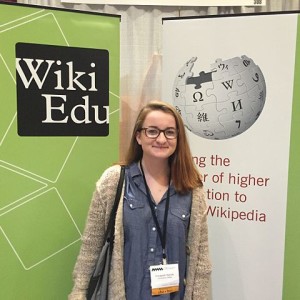 Lizzy Kenah, a student at Connecticut College whose "Advanced Readings in Feminist Theory" course asks students to create or edit Wikipedia articles on feminist issues, came by to talk about her assignment.
"The Wikipedia assignment has made me feel invested in making Wikipedia more expansive and accurate," Lizzy says. "Now, when I view Wikipedia articles, I am more inclined to look at them critically and question how I could improve them. It has also made me consider who is able access to certain academic knowledge/information and appreciate those who are working to broaden this access."
Another student, Amanda Neumann, hasn't had a Wikipedia assignment, but she was excited by the possibility. She plans to tell her instructors and to share what she learned about Wiki Ed in her campus feminist zine.
"Hopefully it will encourage students to engage in Wikipedia and talk to their professors about using Wiki in the classroom," she says.
The NWSA partnership is just one example of the ways Wiki Ed can connect academia to Wikipedia for positive outcomes. Partnerships like these help us identify content gaps, and connect to the classrooms where students can be empowered to bridge those gaps. Women's studies is only one powerful example.
Jami Mathewson
Educational Partnerships Manager