Highlights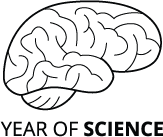 On January 15, we officially launched the Year of Science, our initiative to improve both Wikipedia's science content and the science communication skills of higher education students across the United States and Canada. The Year of Science will include significant outreach to increase the number of supported courses in STEM and other science fields. We're seeking to develop academic partnerships with academic associations, and to place Visiting Scholars at libraries and academic departments where they can make the most impact on Wikipedia's science topics. We've also released a new handbook for students editing articles about genes and proteins this month. The Year of Science has received major support from Google and the Simons Foundation.
Our first Year of Science partner is the Society for Marine Mammalogy, which "evaluates and promotes the educational, scientific, and managerial advancement of marine mammal science." Members and their students will participate in the Year of Science by improving Wikipedia's coverage in this topic area.
The Classroom Program is supporting more than twice as many courses as it was at the same time last year. We already have 70 Year of Science courses on board; last year, we had only 64 courses in every field by January 31. Thanks to our suite of improved tools, we've been able to quickly scale while maintaining overall student quality; 74% of our students were up to date in the new online training modules.
At its first meeting of 2016, the board welcomed Dr. Carwil Bjork-James, longtime Wikipedian and assistant professor at Vanderbilt University, as a new member.
---
Programs
Educational Partnerships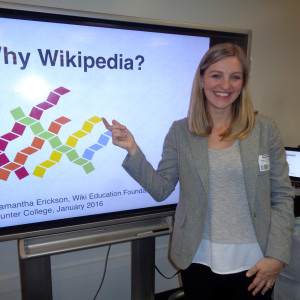 In January, the Wiki Education Foundation partnered with the Society for Marine Mammalogy as part of the Year of Science. We're thrilled to bring scientists and students to Wikipedia to improve the content about marine mammal science.
Early in every academic term, Wiki Ed works with new instructors to design assignments that will benefit students while making a positive impact on Wikipedia. We spent much of January preparing instructors for spring 2016, but we've nearly doubled the number of instructors compared to last term, thanks to an outreach effort to recruit new instructors into our program.
Our team has been presenting to faculty about the benefits of teaching with Wikipedia. Outreach Manager Samantha Erickson attended the Linguistic Society of America's annual meeting, where she spoke to more than 100 instructors about the LSA Wikipedia Initiative and the Year of Science. Educational Partnerships Manager Jami Mathewson presented at the American Historical Association's annual meeting to promote Wikipedia as a learning tool for history students. Samantha joined Wiki Ed board member Chanitra Bishop at Hunter College to present to faculty and librarians, and Jami presented to women's studies instructors and graduate students at Emory University.
Classroom Program
Status of the Classroom Program for Spring 2016 in numbers, as of January 31:
131 Wiki Ed-supported courses had Course Pages (63, or 48%, were led by returning instructors)
1,285 student editors were enrolled
74% of students were up-to-date with the student training
Students edited 224 articles and created 8 new entries
Classroom Program Manager Helaine Blumenthal approved 90 courses on the Dashboard. Our total is 131 courses so far for the Spring 2016 term, as compared to 64 courses at the same time last year.
Despite rapid growth, Helaine has ensured that each course follows best practices for teaching with Wikipedia. The key to matching growth and quality are our tools and resources. They've made it much easier for Helaine and Wikipedia Content Experts Adam Hyland and Ian Ramjohn to quickly review courses.
Our students are beginning to get their feet wet with their Wikipedia assignments. With the help of Adam and Ian, students are choosing articles to work on, and learning the ins and outs of Wikipedia with our updated student training. For the first time, instead of one long training taken at the beginning of the term, students will use different modules timed for when they need them the most. For example, when they're ready to move work from student sandboxes to the main space, they'll take the sandbox module.
Because students take different modules according to the needs of their course at different times throughout the term, the Dashboard shows what percentage of our students are up-to-date with their assigned training, rather than a single number marking completion of the training. The new training covers everything from Editing Basics toUploading Media to best practices for peer review. We think students will find the new training not only more timely, but comprehensive and accessible.
With the launch of the Wikipedia Year of Science, the Classroom Program already has more than 70 relevant courses, ranging from topics such as genetics, ecology,climate change, chemistry, archaeology, history of science, linguistics, public health, and neurobiology. You can see all of our Year of Science courseshere. With such a wide range of disciplines, our students will be improving a broad spectrum of science content on Wikipedia.
As part of our ongoing efforts to close the gender gap on Wikipedia, we're committed to improving content related to women and science during the YOS. This term, Jim Council's History of Psychology course will be improving articles on women psychologists, and we're hoping to bring on more classes to highlight the critical role of women in the sciences.
Student work highlights:
User:Alybrarian from Theresa Buress's Become a Wikipedian course at the New College of Florida expanded the article on Eugenie Clark, perhaps better known as The Shark Lady. Clark was a pioneer in multiple fields of marine biology and worked for much of her life on public perceptions of sharks.
We saw some great work from David Webster's course, Memory, truth and reconciliation in the developing world, including a new article from the professor on lieu de mémoire. The students are just getting started on a long assignment, but already they've improved 20 articles, including a large expansion of an article on a WWII battlefield by S.R. Summerfield.
Community Engagement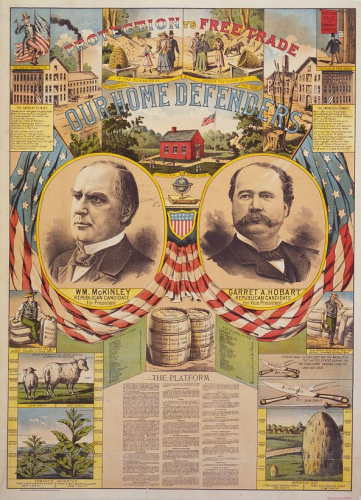 Community Engagement Manager Ryan McGrady continued to develop collaborations with groups on Wikipedia for the purpose of improving science on Wikipedia during the Year of Science. Through Community Engagement, Wiki Ed is sponsoring three editing competitions throughout 2016. The first of these is the WikiCup, an annual contest in which editors are awarded points for creating and improving high quality content. This year, the participants who make the most contributions to science-related topics will receive a special Year of Science prize. The WikiCup is already underway, with 149 editors participating. Ryan has also been working with WikiProject Women Scientists, WikiProject Women in Red, and the Wikipedia Library to prepare resources and article lists for the first of eleven monthly themed virtual edit-a-thons to improve coverage of women in science on Wikipedia.
Earlier in the month, Ryan announced three new Visiting Scholars opportunities at Rollins College and the University of San Francisco.
Visiting Scholars continued to do great work this month. Two articles appeared in the "Did you know?" (DYK) section of Wikipedia's main page. The first is the work of University of Pittsburgh Visiting Scholar Barbara Page:
Did you know "… that as many as 3.3 million newborns die each year, of which 23.4% succumb to neonatal infection?"
The second is from Gary Greenbaum, Visiting Scholar at George Mason University.
Did you know "… that the 1896 US presidential campaign of William McKinley laid the groundwork for modern campaigns?"
Significantly, Barbara and Gary created these articles, too. The McKinley campaign article is currently a Featured Article Candidate. You can read about Gary's previous Featured Article in one of January's blog posts, "Read a Visiting Scholar's Featured Article on Founding Father".
Ryan has been working with Samantha to develop outreach strategies for the Visiting Scholars program. As of the end of January, we are cultivating 23 relationships with prospective sponsoring institutions.
Program Support
Communications
In January, Communications Manager Eryk Salvaggio began implementing the Year of Science communications strategy he developed in 2015, which tied closely to the Wikimedia Foundation's "Wikipedia 15" events on January 15. This translated to increased press coverage for Wiki Ed and the Wikipedia Year of Science (see below).
Eryk also piloted a small social media ad campaign on Facebook. We presented materials to encourage participation in the Classroom Program to a group of users identified as higher education instructors in STEM fields. This messaging was seen only by those users we identified in that group. After three cycles of short tests over the weekend and weekdays, our messaging was seen by 85,000 possible instructors. Of those, 2,429 visited our special landing page, and 31 followed through with an e-mail. Seven of those 31 were ineligible (i.e., high school teachers, or instructors outside of the USA and Canada). At the time of this report, zero of those contacts have created courses on our Dashboard, though three have expressed strong interest in creating courses in future terms.
Also related to the Year of Science, Eryk, with the assistance of Ian and various WikiProject Molecular Biology editors, created a new editing guide for science students who are writing articles about Genes and Proteins. Genes and Proteins offers suggestions for identifying reliable journals (and poor quality journals), how to structure an article to keep in line with other genes or protein articles on Wikipedia, and even how to create a relevant infobox for individual proteins, protein families, enzymes, GNF proteins, nonhuman proteins, and RNA families.
Blog posts:
External press:
Digital Infrastructure
Our main technology project for January was the Wiki Playlist app: playlist.wiki. Our first real foray into social media, the Playlist project lets anyone create and share a set of interesting Wikipedia articles — such as "Black Hole Mania", a collection of articles that gives context for massive announcement of the observation of gravitational waves. After a soft launch at the beginning of February, Product Manager Sage Ross and the WINTR development team will continue refining the design in preparation for a Valentine's Day-themed campaign: Wikipedia articles you love.
We also continued refining the Dashboard, with improvements for both the Classroom Program and the Visiting Scholars program. Sage and Eryk worked on extending the new student training, adding a second interaction tutorial focused on using talk pages. We also added a tool for collecting continuous feedback about the training modules, so that we can continuing iterating and improving rapidly on the content. And with some behind-the-scenes work to make the Dashboard more flexible, we now have system that works much better for Visiting Scholarship project (like this one). For Visiting Scholarships, we've replaced the "instructor" and "student" terminology, and we've changed the way statistics are calculated so that only a scholar's work on articles within the scope of their scholarship project are displayed.
Program Innovation, Analytics, and Research
Wiki Education Foundation's first research intern began in January. Kevin Schiroo's internship will focus on data science research that will help us understand the programmatic impact we have on Wikipedia content. Kevin's project involves investigating what broad categories content development is happening in on Wikipedia, and investigating which categories our student editors are having the biggest impact in. This data will be particularly helpful as we kick off the Year of Science this year.
Kevin is pursuing his Ph.D. in Computer Science at the University of Minnesota. Since May, he's been a graduate research assistant at the University of Minnesota's GroupLens lab, investigating the relationship between Wikipedia editors' workflow and time contributions, specifically focusing on how these contributions lead to varying improvements in article quality based on different characteristics of articles. Kevin has a B.A. from Coe College and has previously worked for IBM and interned for the Department of Defense.
Finance & Administration / Fundraising
Finance & Administration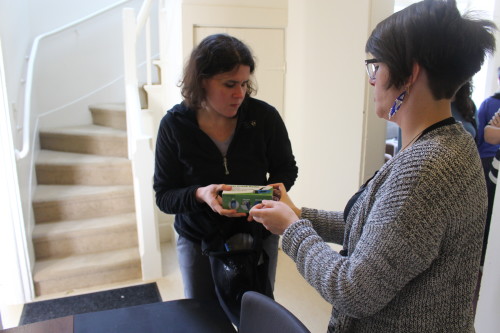 This month, Wiki Ed distributed emergency supplies and go-bags for local San Francisco staff, to use in an earthquake or other evacuation event. The bags include whistles, dry goods and water, reflective rain gear, and notes with emergency contact numbers.
For the month of January, expenses were $238,346 versus the plan of $331,961. Approximately $50k of the $94k variance is due to the timing or delays of expenditures. Another $40k is due to our previous decision to hold off on expanding office space and staffing until a later date.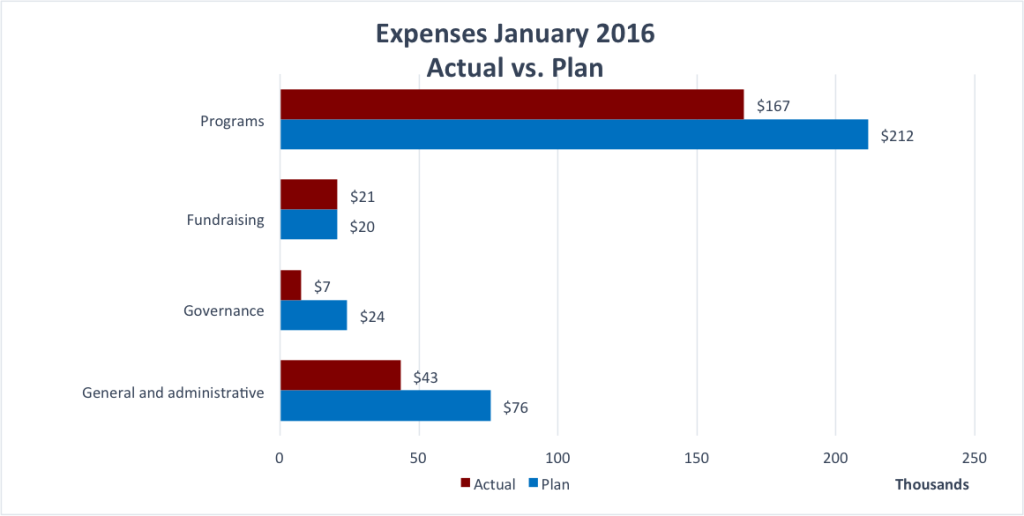 Our Year-To-Date expenses are $1,726,389 versus the plan of $2,203,264.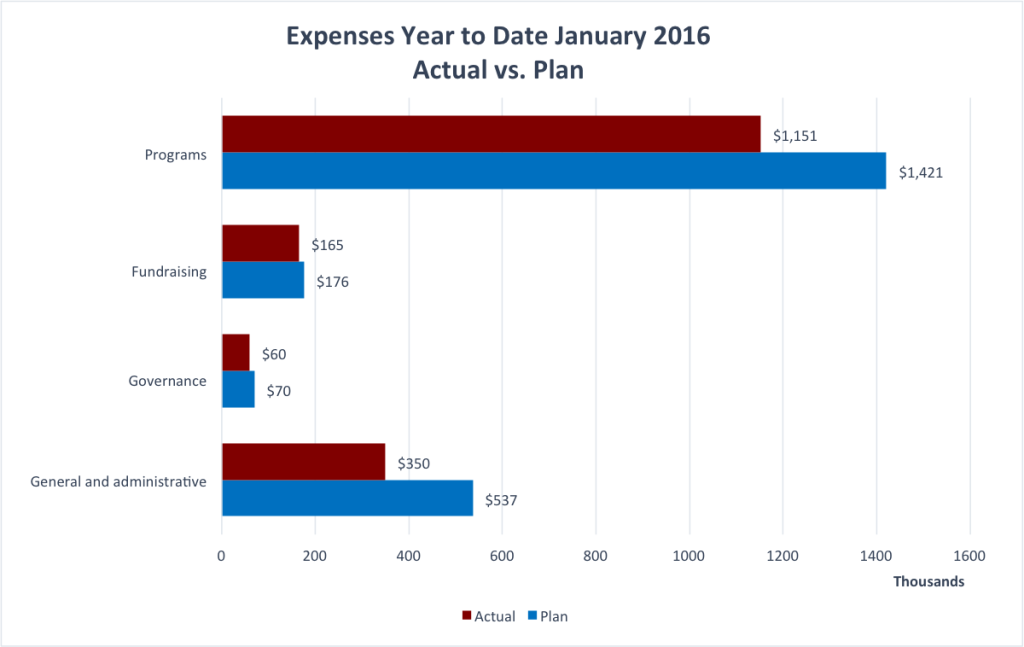 The $477k variance is the result of: Certain expenditures temporarily being held until the prospect of long-term funding is determined (additional Personnel including recruiting and equipment cost – $179k; additional Office Space – $92k; Creative Design Services – $44k: Promotional Items – $10k; Community workshops – $30k and Other Outside Contractors – $15k)
Timing of certain expenses such as: Staff Development – $24k; Staff Meetings – $28k; Brochure printing – $12k; and Events – $11k.
Over the last 3 months, our spending level has averaged 79% of our planned budget.
Fundraising
This month, the Development and Program Support teams collaborated to submit a Year of Science proposal to the National Science Foundation (NSF). The Wiki Education Foundation was invited to apply through the NSF's Grants for Rapid Response Researchprogram.
Senior Manager of Development Tom Porter met with Wiki Education board member Lorraine Hariton to discuss the activation of the recently-formed Development Committee of the Board. The Committee's purpose is to assist the Board in generating the financial support necessary to ensure the continuing financial viability and the future financial security of Wiki Ed. The first meeting of the Development Committee took place on January 30 in Marin County, California.
Office of the ED
Current priorities:

Supporting the fundraising team in securing funding
Preparing for the upcoming all-staff meeting in February
Overseeing the annual planning and budgeting process for fiscal year 2016–17
The senior management team has taken the first steps in working on the annual plan for next fiscal year. Director of Program Support LiAnna Davis, Director of Programs Tanya Garcia, Director of Finance and Administration Bill Gong, and Tom provided Executive Director Frank Schulenburg with their first ideas about key projects for 2016–17, with Frank giving feedback. While Wiki Education Foundation's focus will be on Wikipedia Year of Science, we're planning to embark on a couple of additional and partially experimental projects, which will be aimed at increasing our reach and impact.
Frank supported Bill in drafting parts of the new staff handbook. In particular, he finalized a section dealing with the history of the organization that will be used as additional material for onboarding new staff members.
At the end of January, Frank participated in the meeting of Wiki Ed's board of directors. The main focus of the meeting was on committee work (Audit, Finance, Development) and on a discussion between the board and senior staff about open questions. Moreover, a subgroup of the board took the first steps in planning an academic workshop to be held during WikiConference USA later this year. Board members also engaged in a governance review and continued their work on the organization's mission statement. The board welcomed Carwil Bjork-James, longtime Wikipedian and assistant professor at Vanderbilt University, as a new member.
Visitors and guests