On Monday morning, news broke that the 2017 Nobel Prize in Physiology or Medicine had been awarded to Jeffrey C. Hall, Michael Rosbash, and Michael W. Young. Scientists are rarely well known by the public, and they had not been among the favorites to win the Nobel. Had you rushed to Wikipedia to find out who they were, you would have found well-written biographies that provided an overview of their academic careers and, more importantly, discussed the importance of their research. Had it not been for students in Wiki Education's programs, however, you would have been disappointed.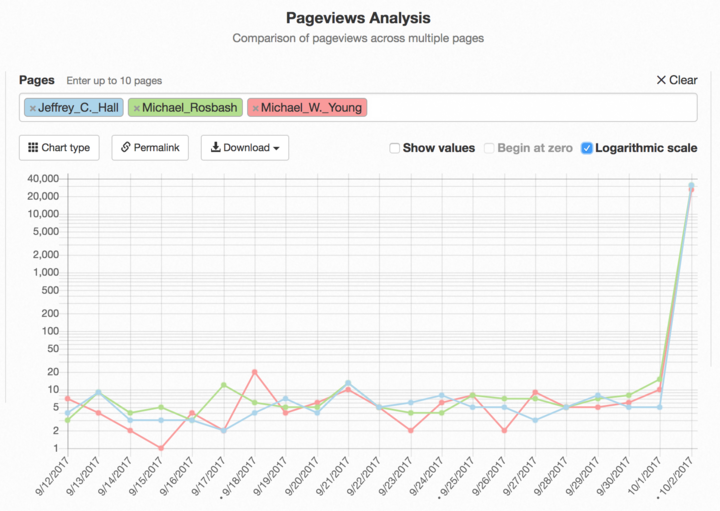 In Spring 2013, Washington University at St Louis professor Erik Herzog started integrating Wikipedia editing into his Chronobiology class. Students were asked to edit biographies of notable chronobiologists on Wikipedia as a class assignment. He's repeated the assignment in three other classes, two more in spring 2015 and one in spring 2017. Through these assignments, Erik's students have significantly expanded the available information on chronobiology on Wikipedia. That knowledge added by students became even more important yesterday when the Nobel Prize was awarded to three scientists whose biographies Erik's students had improved.
Michael Rosbash's biography was created by students in the Spring 2013 class. The students' final version remained largely unchanged until the Nobel Prize was announced. Michael W. Young's biography was just five sentences long when students in the Spring 2015 iteration of Erik Herzog's class started working on it, while Jeffrey C. Hall's biography told of his achievements in four sentences. Now, all are fleshed out articles with detailed information about their research and careers.
When students write Wikipedia articles, they can make a substantial contribution to a body of information that's accessible to the world. When a news story like this breaks and the Nobel Prize is awarded for something other than immunotherapy or CRISPR (the expected winners), that information is going to come from Wikipedia—if someone created an article about it—or it just isn't going to out there in a readily accessible format. And student editors are especially well-equipped to be that someone.
To get started with a Wikipedia assignment in your class, reach out to us at contact@wikiedu.org.