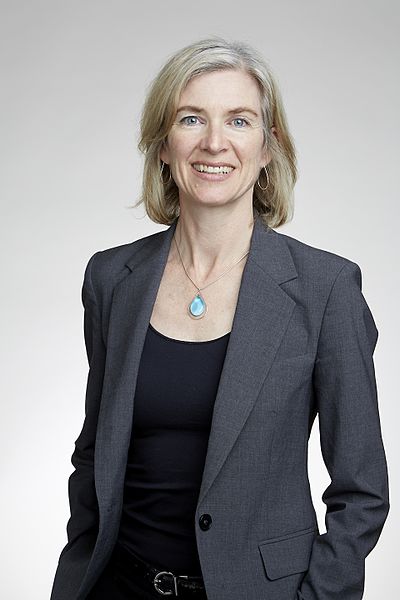 In 2012, Dr. Jennifer Doudna helped make one of the most remarkable breakthroughs in biology — the CRISPR/Cas9 gene editing system, which changed editing genomes from science fiction to science. Before Dr. Laura Hoopes started working to improve it as part of Wiki Education's professional development program, Dr. Doudna's Wikipedia biography looked pretty substantial. With over 1400 words and 34 references, the article traced the course of her career, mentioning the major awards she had won, including her being named one of the Time 100 most influential people in 2015 and runner-up for Time Person of the Year in 2016. But there was something missing from the article.
"I took Wiki Education's course to learn how to edit Wikipedia because I wanted to help make women in science more visible and because I thought that some of the molecular biology content on the site wasn't quite up to date," writes Dr. Laura Hoopes, a member of the National Women's Studies Association. "As a professor of biology and molecular biology, I knew I could help."
If you read Dr. Doudna's biography at the start of August, you would you have read about her career as Jack W. Szostak's student at Harvard Medical School, as Thomas Cech's postdoc at the University of Colorado Boulder, and the way her graduate student (and now, husband) helped her elucidate the three-dimensional folding structure of the Tetrahymena Group I ribozyme. And, below that, four sentences on her contribution to gene editing, including the all-important TED talk. If you read Dr. Doudna's biography as it stood at the start of August, you would read the biography of a remarkable woman, told in relation to the major men in her life.
Wikipedia's systemic gender gap problem isn't simply a matter of missing biographies of women – it also shows up in the way that women are "contextualized" by presenting them in relation to the men in their lives. This is not a particularly Wikipedian problem – in this, Wikipedia reflects the way that women are written about in the world at large. But when you write for Wikipedia, you're under no obligation to perpetuate these biases.
As Dr. Hoopes expanded and reworked Dr. Doudna's biography, she changed it from a chronological account to an account of her research. The article now gives a much better sense of her achievements, and makes their importance clear. And finally, CRISPR is given coverage that gives a better sense of its importance, and of the role she played in what may turn out to be one of the most important discoveries in history of biology.
Although she has not been nominated for Time's Person of the Year, Dr. Laura L. Kiessling's contributions to the field of chemistry have earned her a MacArthur Foundation Fellowship (popularly known and the "Genius Grant") in 1999. The ability of cells to recognize and interact with the cells around them is crucial for everything from the formation of tissues, to the ability to cells to recognize bacteria (and trigger an immune response). Dr. Kiessling's work on the carbohydrates involved in cell–cell recognition and signal transduction have led to important discoveries. When Alice Chang, another participant in Wiki Education's professional development program, started work on Dr. Kiessling's Wikipedia biography listed her awards and achievements (in somewhat excessive detail) but it did little to give a sense of what she did, or why it might be important. In her edits to the article Chang was able to add chemistry to an article about a chemist, giving readers an understanding of what Dr. Kiessling has actually done to earn those accolades.
Because so many people look to Wikipedia to learn about the world, it's important that the knowledge they find there is an accurate reflection of everyone. Anyone can fill content gaps on Wikipedia by becoming an editor themselves. However, the policies and guidelines of the community — let alone the technical mechanisms involved in editing — can deter many beginners from diving in.
That's where our professional development courses come in. We provide Wikipedia trainings, collaborative online discussion sessions, and hands-on support to scholars who want to add their knowledge to the site. Our courses are an effective way to prepare newcomers to make valuable contributions to the site's content and ultimately provide participants with a fulfilling experience.
---
Read reflections of participants in our professional development course here. Or reach out to contact@wikiedu.org to see how you can get involved.
---