Wikipedia, like much of history and historical scholarship, is missing information related to women and marginalized American communities. This weekend, Wiki Education is attending both the National Women's Studies Association (NWSA) and the American Studies Association (ASA) annual meetings in Atlanta to empower scholars to help us fill these content gaps. NWSA and ASA share missions to disseminate research to the world, informing the public of their discipline in order to transform our understanding of these important topics. In 2018, there's no better place to communicate scholarship beyond the academy than through Wikipedia, which gets 500 million readers each month.
Why Wikipedia matters in higher education
Both NWSA and ASA have partnered with Wiki Education to emphasize the importance for scholars and scientists communicating their research to the public. Though English Wikipedia has nearly 6 million articles, academic topics are lacking because the volunteer community that builds the encyclopedia may not have access to research that lives behind paywalls. Students and academics, on the other hand, can access a wealth of research through their university library. They have crucial context to evaluate Wikipedia through interdisciplinary and intersectional lenses in order to identify Wikipedia's gaps. Wiki Education has the Wikipedia expertise, infrastructure, and staff support to train these contributors how to add high-quality content to Wikipedia.
Assigning students to write Wikipedia articles
Instructors can channel students' research and writing into a productive, real-world assignment by asking students to expand or create Wikipedia articles related to the course topic. Wikipedia assignments help students tap into university resources, sparking discussions about the limitations of disseminating information when it's closed to a privileged group of experts. Engaging actively in an open-source community of practice like Wikipedia teaches communication skills and critical media literacy—skills that students apply to their lives well beyond their university education.
Wiki Education provides tools, tutorials, Wikipedia expertise, and instructional design support to ensure students learn all they need to know as they begin improving Wikipedia. For instructors ready to get started with their Wikipedia assignment, visit teach.wikiedu.org.
Working together to share historical and cultural understandings of women's suffrage in the United States
In January 2019, Wiki Education, in collaboration with the National Archives, launches a professional development course to facilitate scholars' improving Wikipedia's content related to women's suffrage in the United States. In 2019, the National Archives Museum will open an exhibit to celebrate the 100th anniversary of the 19th Amendment. Other institutions are planning celebrations, too, and visitors will look for more information about the history of women's suffrage, today's ongoing voting struggles, and challenges for underrepresented and disenfranchised communities. When they search for more information about these important topics, we want them to find high-quality, reliable information. Join the initiative to educate the public about women's suffrage!
Meet Wiki Education this weekend to get involved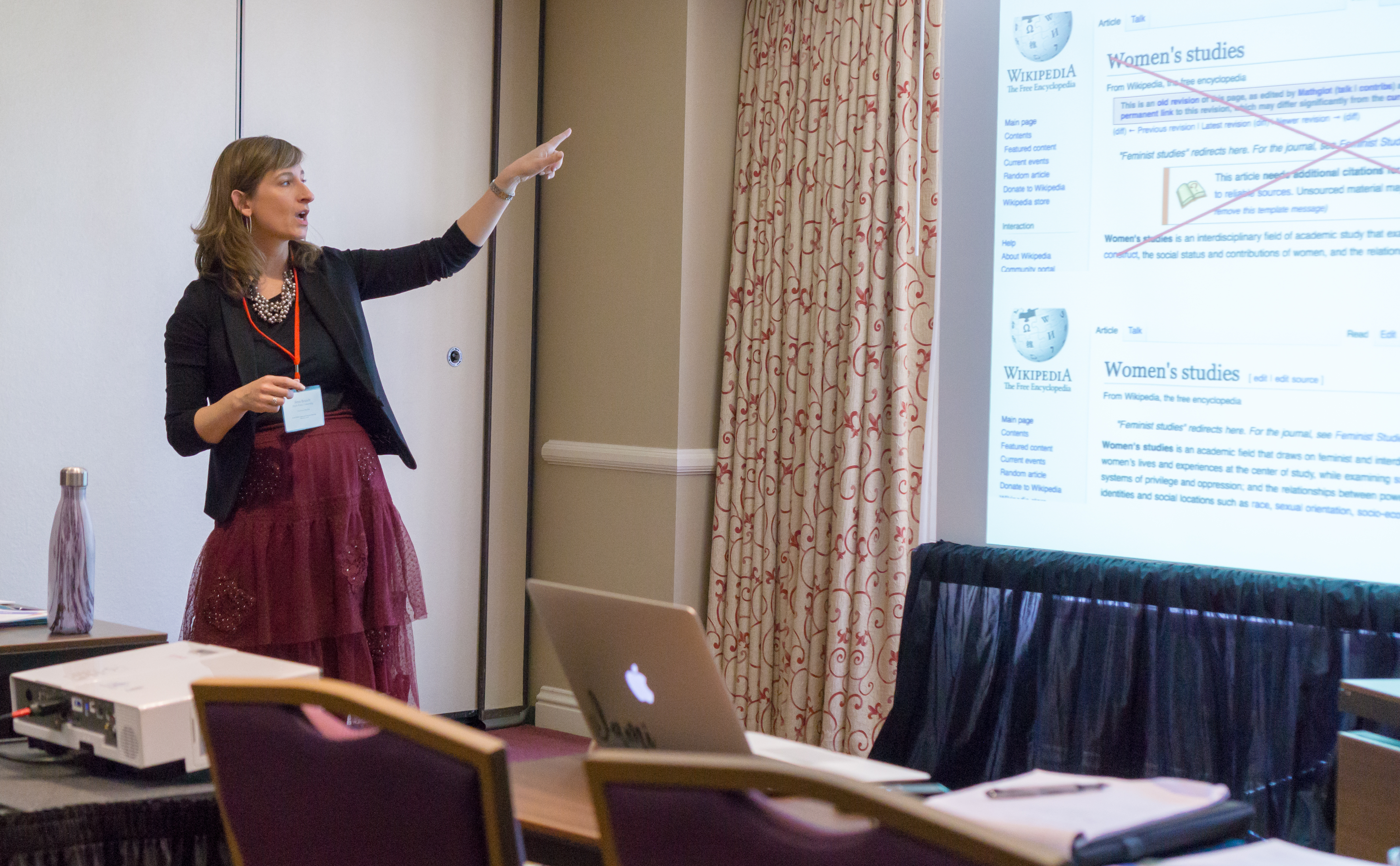 Come by NWSA's exhibit hall and ASA's registration area Friday–Sunday to discuss how your goals align with Wiki Education's initiatives.
On Friday, November 9th, Director of Partnerships Jami Mathewson will present at the NWSA meeting to share deeper context about Wikipedia, its need for equity, and how scholars can work to improve the world's leading information source. Dr. Jenn Brandt of California State University, Dominguez Hills will join to share her experiences as a Wiki Scholar who assigned students to write Wikipedia articlesas she learned about its workings. Come to Hilton Atlanta Room 216 at 2:45pm to learn how you can get involved to make Wikipedia a more representative knowledge source for the world.