Eilene Lyon is a Colorado-based freelance writer specializing in historical non-fiction, and an avid genealogist. Eilene learned how to create and expand Wikipedia articles in our professional development course as a way to give back to society and ensure that accurate information is being presented in a well-written format. This is a republishing of her blog post about the experience, first published on March 27, 2019.
A Major Milestone
This year we celebrate the 100th anniversary of the passage of the 19th Amendment to the U. S. Constitution. It was ratified in 1920, so we can celebrate another centennial next year. In recognition of women winning the vote, the National Archives (NARA) museum has a special exhibit opening in May.
In conjunction with that, NARA has collaborated with Wiki Education to create a special course for Wiki Scholars to improve Wikipedia's articles on the suffrage movement and women's history/biography in general.
Bias in Wikipedia
English Wikipedians are overwhelmingly male and represent primarily North American and European populations. Consequently, there is a lot of bias on the platform. Biographies, particularly prior to 1900, are overwhelmingly about men. Meeting the "notability" requirement can be a hurdle for female subjects, partly because the notability standard at Wikipedia is defined by, um, men. See this article in Slate.
Why don't more women write/edit Wikipedia articles? Some answers can be found here at the Harvard Business Review. The problem is widely recognized and many people are looking for ways to combat it. A couple good articles on the subject come from the Washington Post and Smithsonian. It's also important to get more women of color in Wikipedia, not just in the suffrage movement, but for any significant achievement.
I created my own Wikipedia account over a year ago, because I wanted to correct some errors. But I never did much, because I didn't feel like I really understood the platform. It looks more user-friendly than it seems once you get started.
Learning to Edit/Write for Wikipedia
In December, NARA sent me an email about the Wiki Scholar online course and I jumped at the chance to learn how to be a Wikipedian while improving women's suffrage articles. While Wiki Education's work is usually billed as a program for students and professionals in academia, this course isn't that restricted. You do have to apply and pay for the course (scholarships are available).
It's been such a fantastic experience! The class is taught by two Wikipedia editors (and a guest appearance by someone from NARA). There are teaching modules to do on your own, plus once a week the entire class meets for an hour by video conference.
There is also regular communication with other students and course instructors using Slack and our Wikipedia user pages. I've learned new concepts from classmates and new terminology as well.
By the end of the 3-month course, the Wiki Education instructor expects each student will contribute significantly to at least two articles. First we learn to evaluate what makes a good Wikipedia article, so we can take steps to improve them. Work is usually done in a "sandbox," a user sub-page that isn't a live article, but is accessible to anyone. After an instructor provides feedback, the edits are copied to the actual article.
My Contributions

My first article was a biography about a 19th-century suffragist from Indiana, Mary Thistlethwaite Birdsall. Using my genealogy research skills, I was able to correct some information about Birdsall and add quite a lot more to this article. Not many people had worked on it, so I figured I wouldn't get much resistance to my work (great for a newbie).
The second article was a much larger undertaking, which I also substantially re-wrote and expanded greatly. Beforehand, I engaged with the people who had previously worked on it. This one is about a significant historic event, the 1913 Woman Suffrage Procession in Washington, D.C. It was the first major political march in our nation's capital.
While researching this article, I came across many women who either need substantial additions/revisions to their Wikipedia articles, or new ones created. I'll never run out of projects! In researching both articles, I learned so much about the suffrage movement that I previously knew nothing about. Like all Wikipedia articles, these two are still works in progress.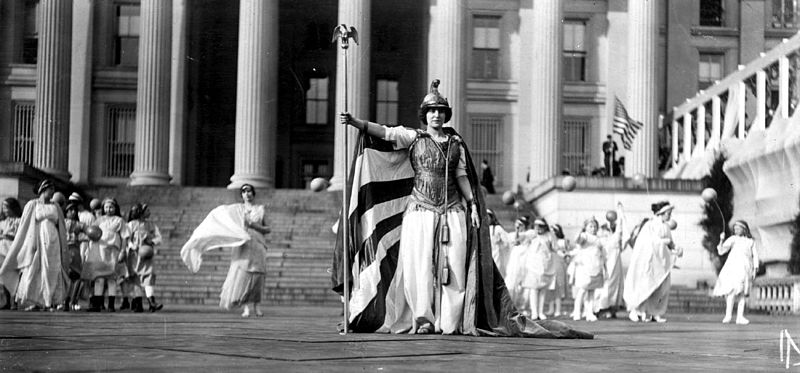 Your Turn?
Two other things I learned in this class were: 1. how important it is to use a neutral tone (in Wikipedia, not my blog!), and 2. the subtle ways that the English language and composition are used to imply that women are subordinate or inferior to men. I recommend reading this article: Writing about women to see how we can be less biased.
Do you use Wikipedia? It seems like it's the first place I go to learn about a person, historical event, natural phenomenon, or geographic place. Many people are working to make it reliable, but it depends on editors using quality resource materials. If you feel like giving back by contributing to this online encyclopedia, I hope you will consider signing up.
---
Resources:
---
Registration for this course is currently open! Visit our landing page to learn more.