When you gather a group of about 800 people to celebrate open knowledge, you can't help but feel the excitement and hope in the room. Wiki Education staff were thrilled to join the Wikimedia community in Stockholm, Sweden for Wikimania 2019. We've accomplished a lot together as a community and it was a great to celebrate together.
"Meeting fellow Wikimedians and experiencing their eagerness to improve Wikipedia and its sister projects keeps inspiring me at each Wikimania I participate in," said our Executive Director, Frank Schulenburg, about attending.
TJ Bliss, our Chief Advancement Officer, also attended for his first time. "I wasn't quite sure what to expect," he shared. "But what I experienced was fantastic. I found people engaged in trying to make the world a better place through knowledge. I found people wanting to share their good ideas and deeply interested in the good ideas other people were sharing. I made new friends and expanded my network."
Talking about engaging experts on Wikipedia
Ryan McGrady, our Scholars & Scientists Program Manager, also attended the event. He and TJ both noted how energizing it was to talk to others about training experts in Wikipedia editing through our Scholars & Scientists Program. "There was a lot of enthusiasm about our courses, and in particular for getting experts to edit Wikipedia," Ryan shared.
Meeting Olle Terenius was also a particular highlight of the week. "Olle is a faculty member at Uppsalla University who encourages all Ph.D. students to contribute to Wikipedia," TJ explained. "He's basically a one-man Wiki Education in Sweden, supporting hundreds of students and the instructors who teach them as they edit Wikipedia articles. He is also working to encourage the swedish research agencies to include requirements on grant proposals that will create powerful incentives for scholars and scientists to contribute to Wikipedia as part of their public outreach efforts."
The Dashboard in action
"Seeing the nearly ubiquitous use of the P&E Dashboard in other peoples' presentations was also a really meaningful experience," said TJ. "The Dashboard is by far the most used tool in the Wikimedia community to show impact of projects. And to see how others are utilizing it to bring more accurate knowledge to the masses is really inspiring." During the event, the Dashboard was named one of the Coolest Tools of 2019, which meant a lot to the Wiki Education staff present, as well as our tech team who works hard to improve the tool every day.
Sweden!
Our staff also enjoyed how well the conference organizers integrated local Swedish culture into the entire conference. Whether it was going on Commons photography walks (Frank and Ryan both got a Featured Picture out of it!) or socializing with other Wikipedians over surströmming, the venue provided a great opportunity to talk about shared values with new and old friends from all around the world.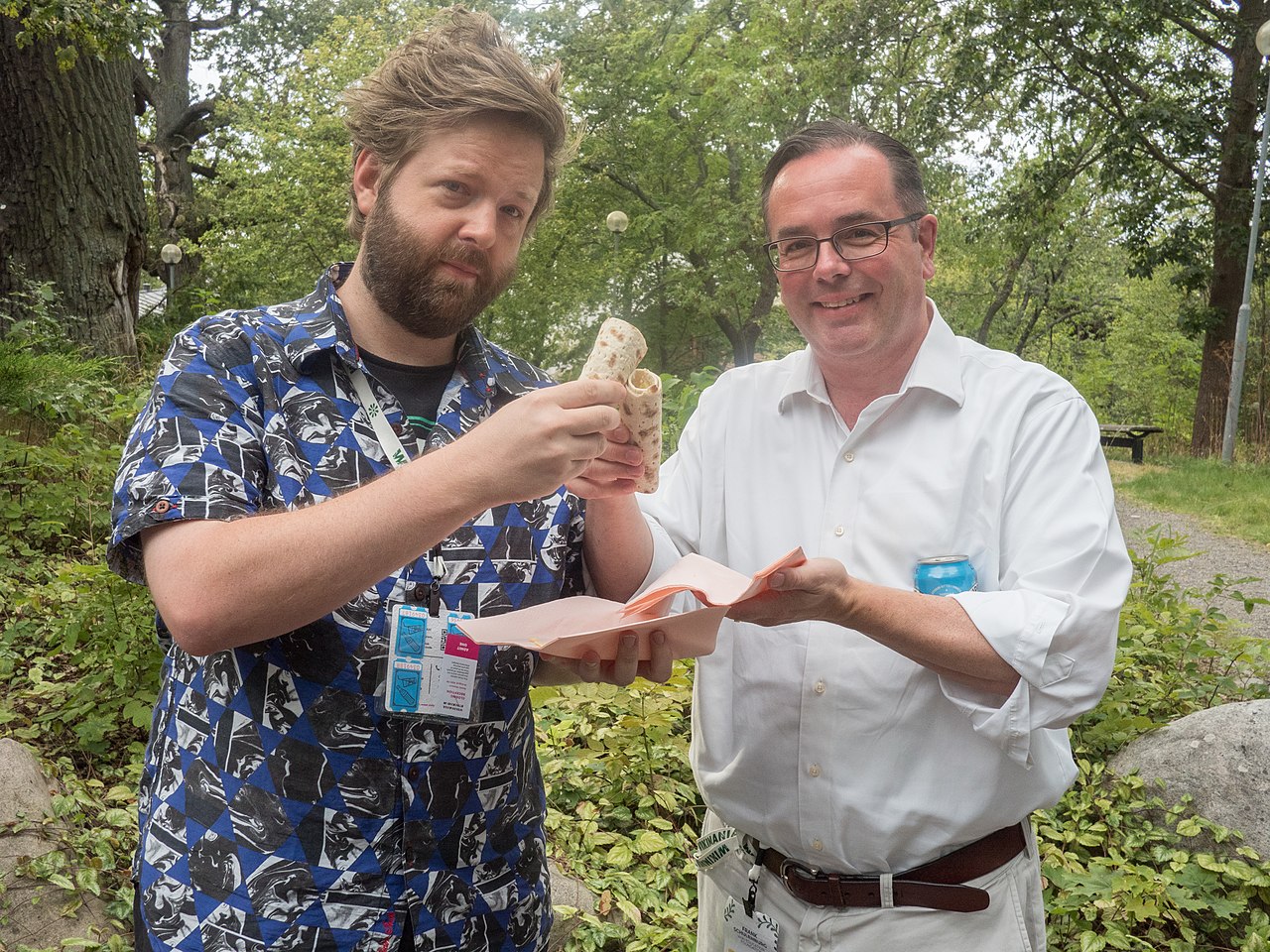 Stronger together
"One of the things I enjoy most about Wikimania is remembering that people all over understand what we're trying to do and believe in the value of Wikipedia in education," Ryan noted.
We really are, as Wikimania's theme this year celebrated, stronger together. Thanks everyone for a great event!
---
Header image by LEP Hamburg, CC BY-SA 4.0, via Wikimedia Commons.