Women are underrepresented on Wikipedia, and it's a well-documented problem. I've spent the last 8 years working on Wikipedia, and the gender gap is the topic I most often see covered in the media (see examples here, here, and here). I certainly understand why. It's devastating for most people to learn that the world's most popular reference is written primarily by one narrow demographic. The most recent studies suggest only 10–20% of Wikipedia's volunteer contributors are women.
Plus, we know systemic bias among Wikipedia's contributors leads to egregious content gaps. Only 18.14% of biographies are of women—a number I'm proud (and sad?) to say has been increasing over the past several years. The growth in that piece of the pie is not, as I like to joke, because we're sneakily deleting biographies of men. It's largely thanks to communities deciding they can do something about gender parity on Wikipedia and then actually doing something about it.
That's why I love seeing organizations that promote and support women take a stand and decide to take part in correcting this imbalance. Earlier this year, Wikipedian extraordinaire Jess Wade connected me to the Women's Forum for the Economy and Society. They were interested in leveraging their platform to raise awareness of Wikipedia's gender gap, and they wanted to invite members to be a part of the change they wish to see on the internet. But learning how to participate in a community like Wikipedia, which has 19 years of its own procedures and cultural norms, can be incredibly difficult. It's helpful when new editors have guidance in their efforts.
Women's Forum Global Meeting edit-a-thon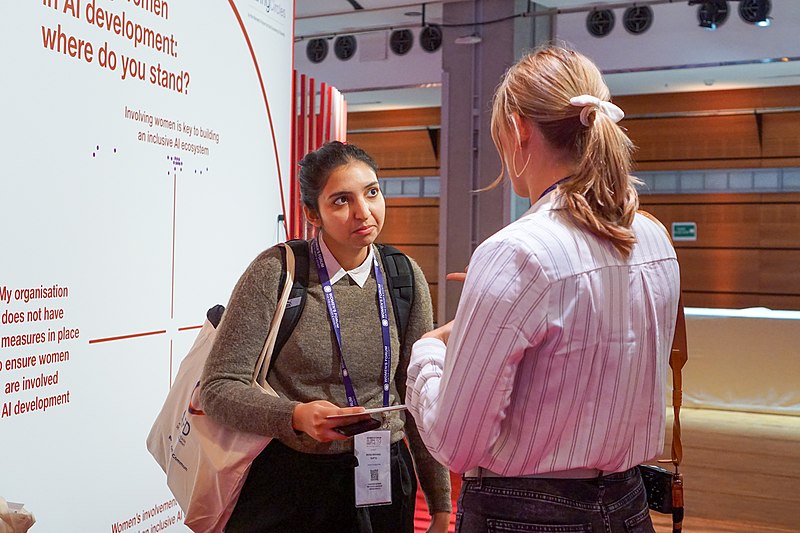 So last month, Samantha Weald and I were honored to attend the Women's Forum Global Meeting in Paris as a part of the effort to give interested new users the space (and human faces!) to learn the ropes. At the conference, we spent three days speaking to attendees–mostly women–about how they are poised to change the face of Wikipedia. We signed up new users, helped several people make their first edits, translated pages, and started conversations we anticipate leading to long-term impact on the encyclopedia.
With the help of our friends at Wikimedia UK, Wikimedia France, and French Wikipedia's les sans pagEs (an effort similar to the excellent Women in Red project on English Wikipedia), we introduced conference attendees to the process of adding biographies to Wikipedia. We even added items and details to Wikidata! Thanks to the multilingual nature of the global event, we facilitated as people translated pages from one language to another, and new editors added content in English, French, German, and Arabic.
Moving the needle to close the gender gap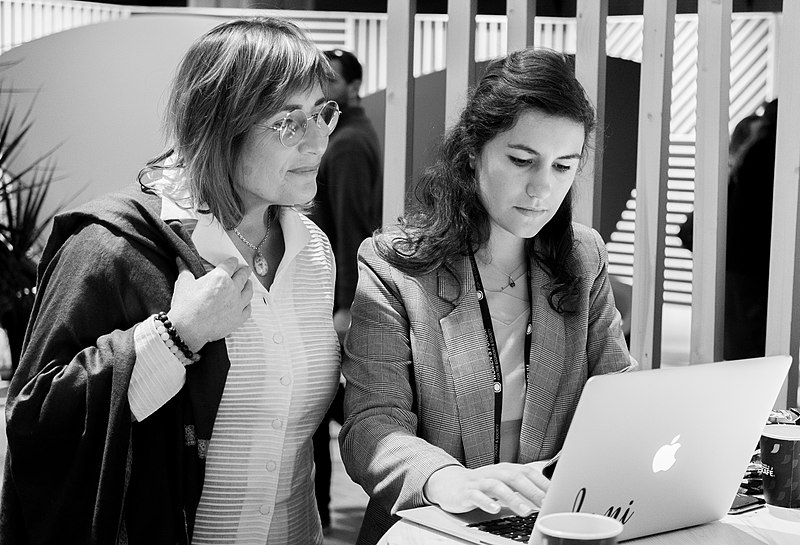 The Women's Forum wielded their influence as a leader with a mission to enact change, and 57 attendees walked away with new Wikipedia user accounts and the confidence that they, too, can be a part of this initiative. Countless people know where to get help as they familiarize themselves with the procedures and community norms that have made Wikipedia such a reliable resource for the world.
Together, we added 33 new pages to the Wikimedia projects, added to 71 pages, and added the equivalent of 32,600 words to Wikipedia and Wikidata.
Some attendees wrote their first stub article, expressing the pride they felt at such an accomplishment. Others approached us to share the effects of imposter syndrome—a feeling that they don't have enough "knowledge" to share confidently to Wikipedia's 500 million monthly readers. This conversation, of course, helped us impart to interested new editors that adding to Wikipedia isn't about what you know but about what you can find out, summarize in your own words, and add with citations so other readers can verify the claim. In short, the group representing Wikipedia was able to quell common fears and remove the barriers that keep prospective community members—especially women—from trying to be a part of this prodigious effort to free knowledge.
Changing the face of Wikipedia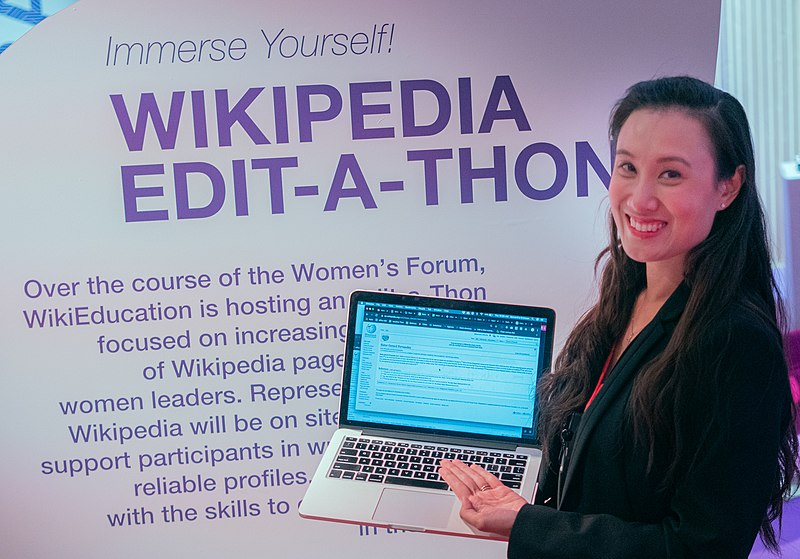 We were thrilled to see new biographies come out of this event, representing a group of women with a diverse set of accomplishments. One participant translated the French page on Kidi Bebey, a French journalist and author, into English. Another translated the English page on Rosalind Brewer, an executive at Starbucks, into French. We saw new pages about rising stars in the business world, scientists combatting climate change, and even Ai-Da, a humanoid robot designed as an artist. One attendee approached us knowing exactly who she wanted to represent on Wikipedia: Gerard Fernandez, a Roman Catholic nun who counseled inmates on death row in Singapore. As we explained to several people, once you start looking for missing women on Wikipedia, you'll discover historic women whose work is underrepresented in nearly every discipline and occupation. Thanks to efforts like this one, curious readers can now learn about them on Wikipedia.
Overcoming imposter syndrome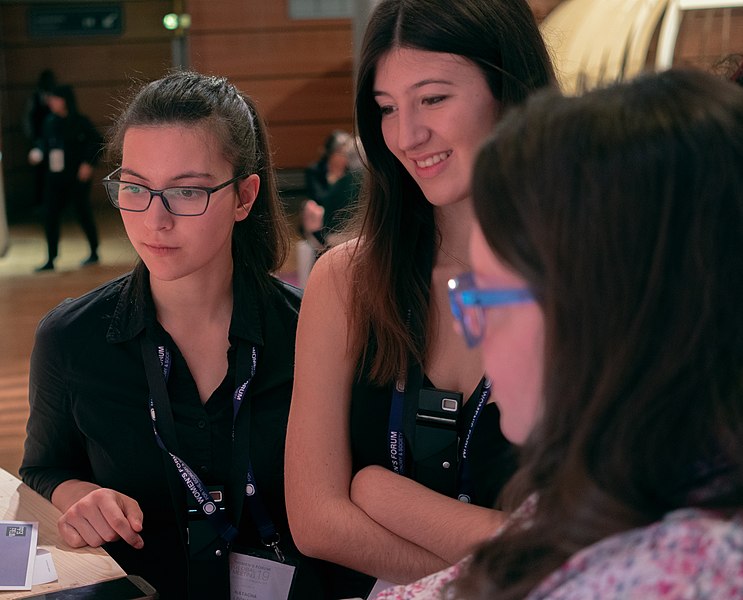 Perhaps my most memorable encounter was with one attendee whose professional background includes decades as a science writer specializing in climate change. In the final 30 minutes of the conference, she sheepishly approached me to admit she'd been convincing herself to stop by our space for three days. After all, what if she wasn't qualified to add content to Wikipedia? Thankfully, we quickly overcame those doubts as she dug in to find enough information about a businesswoman who launched a start-up to use chemical technology to recycle plastics, a feat that has generated several awards and prizes for the organization. This new editor had a knack for finding multiple sources and innately understood why third-party sources are required to ensure quality and prevent promotional editing. In theory, our community welcomes people with this skill set, but it doesn't always work like that in practice. Thanks to this opportunity to connect in real life, I'm confident she knows her knowledge is exactly what Wikipedia wants and needs.
We loved working within this space to affect change, not only in the content on Wikipedia but also on people's understanding that this precious project is one we're all accountable to uphold. Thank you to the Women's Forum for seeing how urgent it is to raise women's visibility online and for taking steps to do something about it.
---
If you're interested in spending more time with our team of Wikipedia experts to learn how to add to Wikipedia, consider joining our upcoming Wiki Scholars course, April–June 2020. For inquiries about partnering with Wiki Education, contact Director of Partnerships Jami Mathewson at jami@wikiedu.org.