If you find yourself teaching the Wikipedia writing assignment virtually for the first time, take some tips from instructors in our community who have done it before!
Take advantage of support
Use Wiki Education's Dashboard. It's already an online platform, complete with full instructions from beginning to end, including a "how to teach with Wikipedia" orientation for first-timers and a full suite of training modules for your students.
Ask for help! Use all of Wiki Education's resources, from browsing and submitting questions through ask.wikiedu.org to using the Get Help button on your Dashboard course page. You're not alone!

Set expectations early and keep them realistic
Focus on the quality of student work rather than quantity. That's always a good idea with the Wikipedia assignment, but especially in a virtual course where students may be less inclined to reach out for help. Small contributions can still be impactful.
Be as explicit as possible. There is no such thing as over-explaining when it comes to running the assignment remotely.
The student trainings on your Dashboard course page will help students make an informed decision when choosing what Wikipedia articles to work on. Or, as the instructor, you may choose to put together a list of articles that students may choose from. If you choose that route, there's a guide to walk you through creating that list. Remember, Wiki Education has guidance for every step of this assignment!
There are likely great disparities in your students' access to technology and the internet. Keep that in mind as you ask them to conduct the assignment entirely off campus.
For more tips about setting expectations, click here.
Make it interactive when you can
If you're running virtual sessions with your students through something like Zoom, be sure to make each session have a focus when it comes to the Wikipedia assignment. Each week on the Dashboard Timeline centers around a training or two that students should take, a task they should complete, and perhaps a list of discussion questions to go over in class. So, for example, ask your students to complete a task related to the project and then come to the session prepared with questions.
The Discussion blocks sprinkled throughout the Dashboard Timeline pose questions for students to consider (see this one for an example). You might use features of Zoom like "breakout rooms" to have students to discuss these questions or workshop their article contributions.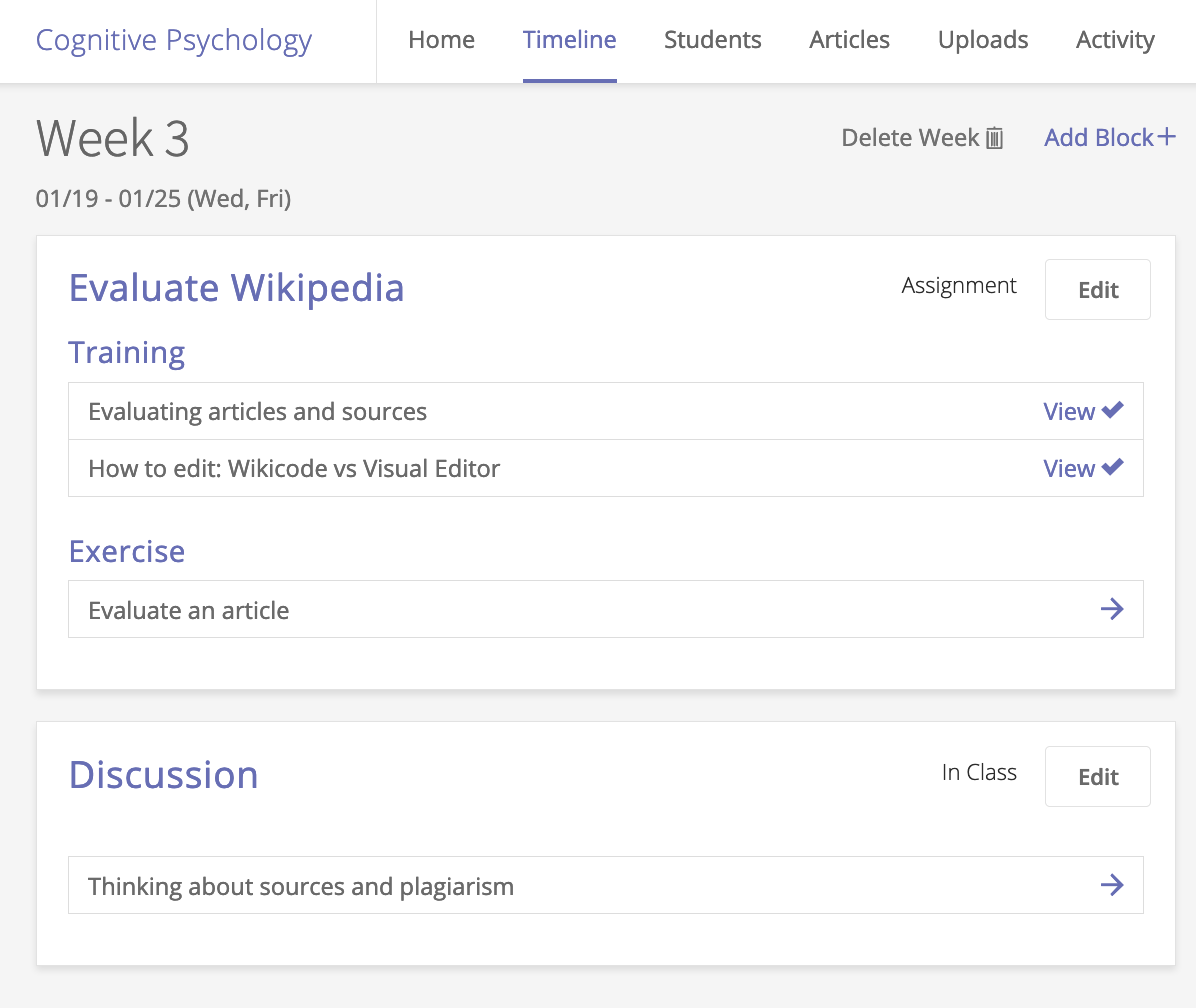 How to grade
Grade students on whether they complete the online training modules by the date stated on your course Timeline.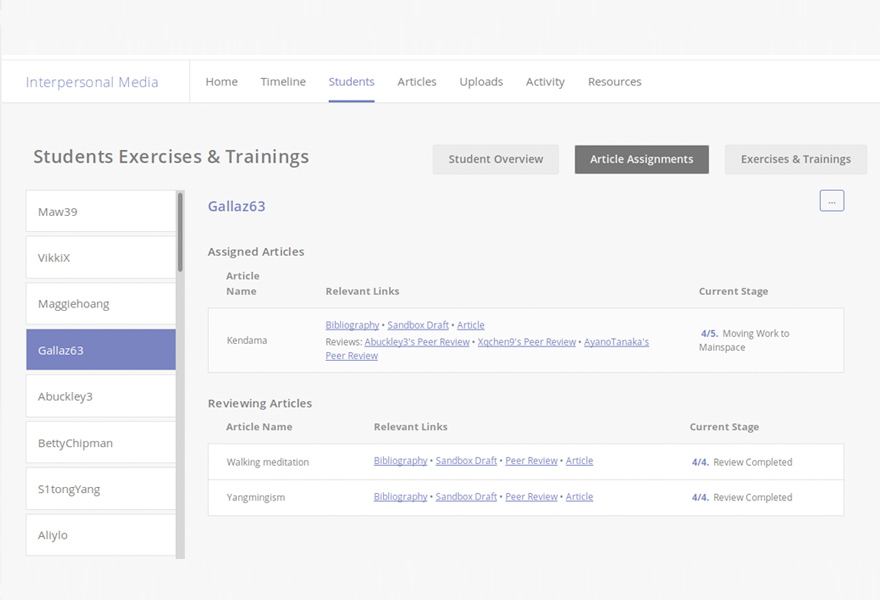 Again, quality is far more important than quantity. What a student contributes to an article will depend on the sources available and Wikipedia's existing coverage of the subject at hand. A 300 word contribution may be as critical to a subject as a 1000 word entry.
For more tips on grading, click here.
Celebrate the successes!
We know it's a strange time and student health is a top priority. Giving students something to do that has a bigger reach than a typical assignment can be great right now. Create moments to acknowledge that your students' work is something to be proud of.
The Engineering Writing Program at the University of Southern California put it well on Twitter:
"In our current state of heightened disquietude, the cooperative efforts of our students in the pursuit of knowledge and education give all of us reason to look forward with confidence and hope. Thank you Wiki Education!"
Want to connect with each other and share tips? Please do!
Tweet at @WikiEducation if you'd like us to connect you with other instructors in our network to share syllabi and more tips for running the assignment. If you have tips of your own to share, please use the hashtag #WikipediaWritingAssignment!