Art museums are not only stewards of data about their collection but also of data from other museums. All of this data can tell the story of art, art movements, and the creators of these artworks. In January I followed up with some of our Wikidata course participants at SFMOMA. I met with Ian Gill, Documentation Associate, and Marla Misunas, Collections Information Manager, as well as other museum staff to catch up about their Wikidata projects.
During my visit we talked about a variety of ways museums can work with linked data to provide more information to their patrons, researchers, staff, or anyone interested in the story of the museum's collection. It was an engaging conversation, laying the groundwork for some fascinating projects in the future. Things really took off when Ian, who took our Wikidata course last summer, started telling us about a project he has been working on since the course ended.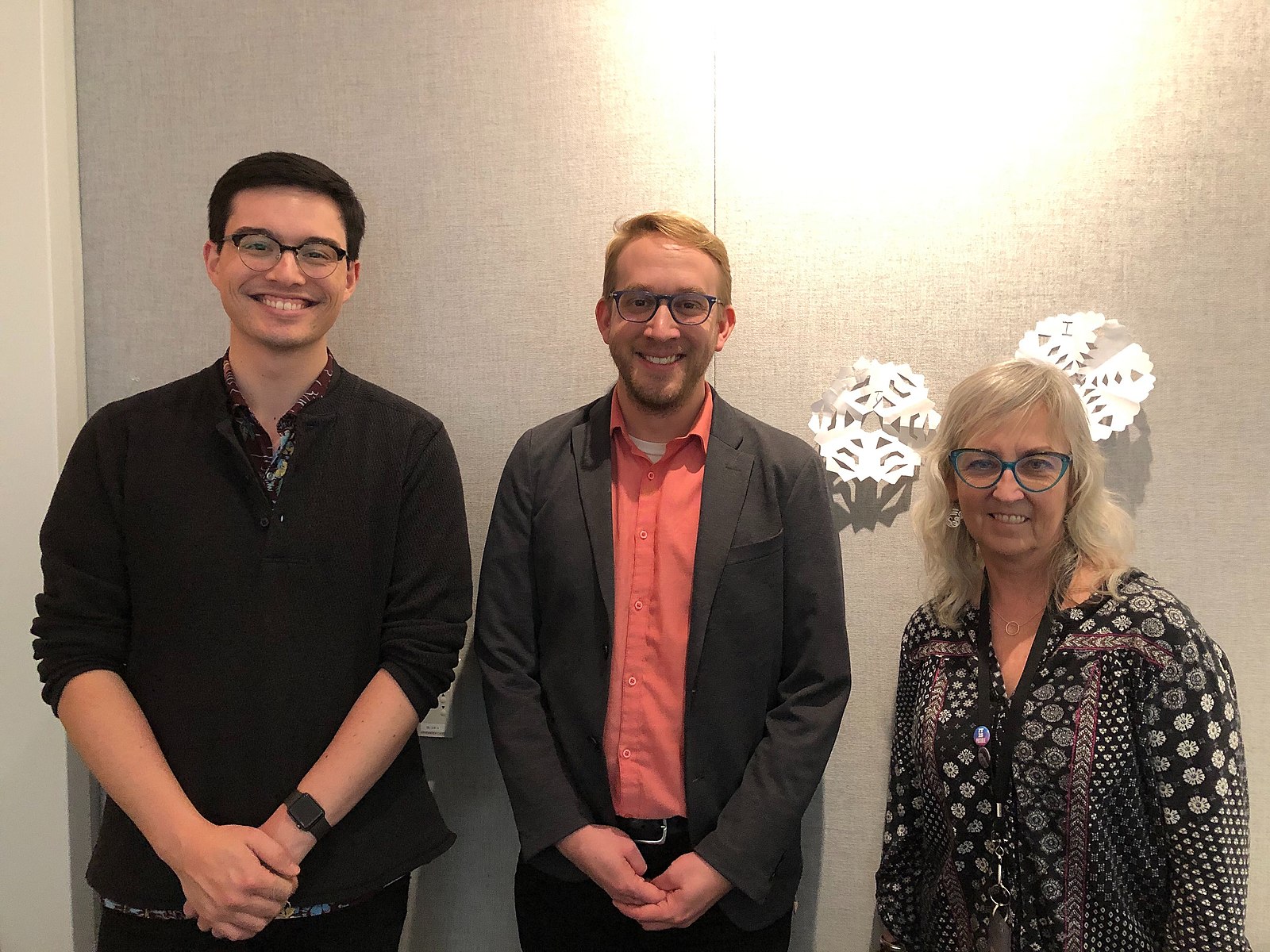 Ian has been a prolific editor on Wikidata, hard at work adding exhibition data from SFMOMA's database. Take a look at his query tracking all exhibitions at SFMOMA from 1935-2020. Since he has uploaded this data, he can track which traveling exhibits were at SFMOMA and when. Although several art museums have extensive exhibition data, SFMOMA by far has the most on Wikidata – with over 3,000 exhibitions represented. Why does that matter? There's so much SFMOMA can visualize and understand about exhibition movement by utilizing Wikidata's query capabilities. Plus, since Wikidata is an open repository, others can benefit from this data too.
Ian was able to upload all this data to Wikidata using QuickStatements, a tool that allows for semi-automated edits to Wikidata that we discussed in our course. Thanks to a firm background in manual editing and property/value usage, Ian was comfortable testing out the tool before implementing edits on a larger scale. He pointed to this tool, which was Wikidata's tool of the year in 2019, as being essential to making these meaningful edits.
Projects like this not only make it easy to see exhibition history, but they also serve up this data neatly organized to anyone who wants it. By having dates associated with the query, Wikidata's Query Service can render these results as a table or interactive timeline. As cool as this is, things get even more interesting when you consider several institutions sharing exhibition data. If that data is in Wikidata, users could look at which museums had an exhibition during a specific date range, follow where different exhibitions traveled to, and analyze them based on topic or length of stay. As with so much on Wikidata, there is great potential to reveal new insights about collections; the creators whose work are represented in them; and the people who consume information about these collections (us!).
It's exciting that SFMOMA has been supportive of staff working on Wikidata. The commitment that they've made to open data demonstrates how combined data from museums can paint a more complete picture of history. Imagine if every art museum in the country shared exhibition data. Not only could you tell what was on display where and when, but you could also track exhibitions city by city over time. Only through the support of many institutions will collaborative projects like Wikidata have a more meaningful impact. Keep an eye on SFMOMA for more developments in the future.
---
Registration for our upcoming Wikidata courses is open! New to linked data? Join the open data movement in our beginner's course. Have more experience with linked data or Wikidata? Sign up for our intermediate course that focuses on possible applications.
---
Want to hear from participants about what courses are like and how they're using their new skills? Check out these blogs.