As classrooms and workplaces have turned virtual over the last month plus, many are finding that video conferencing is hardly a perfect replacement for in-person interaction. Not only that, they're also raising privacy concerns that many didn't have to consider before. How does Zoom collect and use our personal data? What should consumers be aware of before asking their students and colleagues to use the platform, or before using it themselves?
With these questions on the tip of all of our tongues, it was a great surprise to see that engineering students at the University of Southern California completed their Wikipedia writing assignment this semester by adding new data privacy information to the article about Zoom, ensuring folks have enough information to make informed decisions when using this online platform. These engineering students were already adding succinct, well-sourced content to the Wikipedia page a month ago, even before Zoom issued a statement about their privacy policy on March 29.
One student added that in the first two months of 2020, 2.22 million new users had signed up for Zoom (more than in the entirety of 2019). With this great influx of new users comes great responsibility. And one way to keep the platform accountable to data ethics and to help inform users of where their data goes, is to make sure that information is represented on this Wikipedia page where 40,000 visitors consult it per day.
That's right. There have been 1,285,251 page visits on Zoom's Wikipedia page since these students added this information at the end of March.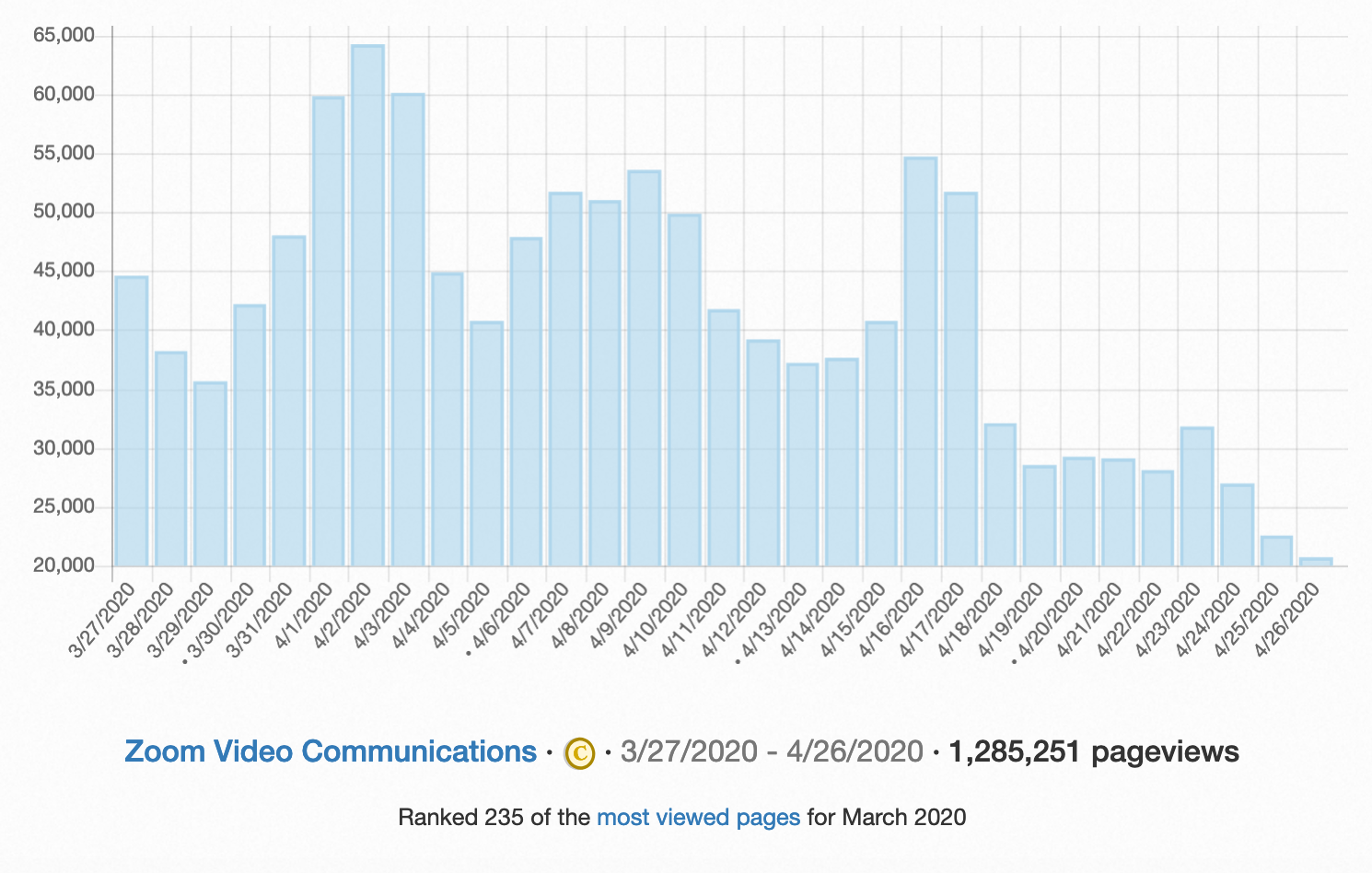 Instructor Dr. Helen Choi had wanted the Wikipedia writing assignment to help students learn to:
write for academic, public, and professional audiences,
demonstrate research and documentation abilities at the upper-division level,
revise and edit to advanced academic and professional standards,
work collaboratively to research, write, and present information and ideas,
and write accurate, precise technical prose.
But what could prepare an instructor or their student for this kind of impact? The result is pretty incredible.
---
Interested in incorporating a Wikipedia writing assignment into a future course? Visit teach.wikiedu.org for all you need to know to get started.
---