As an exhibits content specialist for the Mississippi Department of Archives and History, Jessica O'Connor's job is to help center diverse voices in the stories they tell. So when she heard about the Smithsonian American Women's History Initiative (AWHI) Wiki Scholars course for Smithsonian Affiliates, focused on improving Wikipedia biographies of notable American women in history, she thought it sounded great.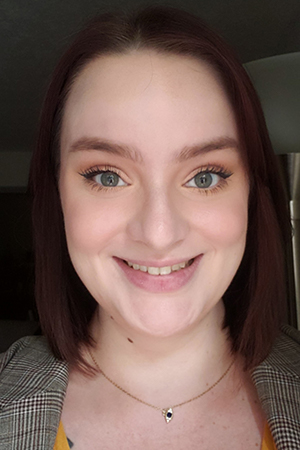 "There is a considerable lack of attention given to the contributions of women in Mississippi throughout its history, particularly women of color," Jessica says. "Taking this course allowed me to start evaluating which Mississippi women have the most developed and widely available histories, and re-center the narrative to include women that are more representative of the diversity in the state."
Jessica expanded the existing article about Minnie M. Cox, the first Black postmistress in Mississippi. The article had been edited several times since being created in 2017, but there was still plenty of room for improvement. Jessica, using sources accessible to her through her work, set out to improve the article on Minnie Cox.
"She was considerably wealthy for the time, and used her influence to open a bank and one of the largest Black-owned life insurance companies in the United States after years of seeing white business owners exploit Black Mississippians," Jessica says. "Her story is one of resilience, sure, but she also occupies an interesting intersection of economic success, civil rights work, and keeping autonomy of herself amidst it all. Hers is a type of history that deserves far more recognition."
Jessica intends to keep working on the article — "there's so much to include!" she says — as well as expanding articles on other women in Mississippi. She found that the work of researching and writing for Wikipedia isn't that much different from what she does in her job. She spends months researching a topic of an exhibit, distilling it to the most informative but engaging information to include in the exhibit. Now that she has written a Wikipedia article, she understands it's a pretty similar process, and she plans to use the skills she gained in the class to keep improving Wikipedia articles related to women from Mississippi.
"There are many women in Mississippi that need representation in the historical narrative, and Wikipedia can be a great resource to provide a glance into what they've contributed, changed, and challenged in the course of our state's history, as well as their mark on the nation," Jessica says. "In the long run, I hope to be able to contribute to a more robust look into Mississippi's history through what can be available on Wikipedia."
Jessica appreciates that this opportunity through the Smithsonian AWHI taught her the Wikipedia editing skills. She hopes other museums and other Smithsonian Affiliates take advantage of future course offerings. After all, she says, their organizations represent diverse histories, and collectively, they can help make the diverse stories of American history widely available through Wikipedia.
And, she adds, gaining Wikipedia editing skills also leads one to be a better Wikipedia reader, too, something that's critical in her day job.
"For a long time, Wikipedia was my 'last resort' in doing historical research," she says. "Now, I will often start with a Wikipedia article to see what sources are available, what appears to be common knowledge, and where I can start filling in the gaps. I know more ins and outs about the process, so I can follow along with the edits and thoughts of other users to fully understand their perspectives, instead of skipping the article all together."
Image credits: Michael Barera, CC BY-SA 4.0, via Wikimedia Commons; JessOC, CC BY-SA 4.0, via Wikimedia Commons