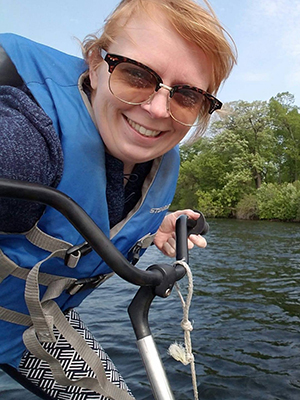 Britt Forsberg has had an extensive amount of experience with science. Currently, she coordinates training and service opportunities for the Minnesota Master Naturalist program where she prepares volunteers for service in conservation and connects them to stewardship, research, and education volunteer opportunities.
When Forsberg learned about the Wiki Scientists course through 500 Women Scientists, she was eager to take up this opportunity to increase representation of women in STEMM on Wikipedia.
Forsberg edited the page for Miriam Rothschild, who is a British natural scientist that has contributed to zoology, entomology, and botany. She selected this scientist because, she says, she wanted to acknowledge so-called 'amateur' scientists, whom she believes deserve equal recognition as those with traditional academic credentials.
"Even though she didn't have the academic credentials that many people find necessary, she was incredibly knowledgeable and made huge contributions to entomology," Forsberg said.  "I also found her previous page disappointing in the ways it called attention to her lack of educational background and her husband's remarriage after their divorce instead of her scientific achievements."
Forsberg says that if it had not been for the Wiki Scientists course, she would not have had the chance to properly dive into researching Rothschild. Because of her dedicated work, within a short period of time after publishing on Wikipedia, there were many views.
"I was amazed at the number of page views our articles had just in the small time we worked in the cohort so I think it's clear that Wikipedia is a major player and that people pay attention to what is posted there.  It's very important that Wikipedia users can see themselves somewhere in Wikipedia," Forsberg says.
What made Forsberg's time in the Wiki Scientists course memorable was the chance to work and connect with others towards similar goals. She hopes others in academia who are still denouncing Wikipedia as a good starting place will soon see its purpose and place in the information landscape.
"I think some people in academia can dismiss Wikipedia as a source but participating in the course would show them what a rich resource it is," she says.
Forsberg looks forward to spreading the word and knowledge about Wiki Education's useful services and how contributions like this impact others.
"We're starting to look at how we can use Wikipedia in our program," she says. "We're trying to represent more diverse perspectives in our field and while we could manage that information, having our participants work in Wikipedia means that their information will find a much larger audience. It also solves some technical problems for us in that we don't have to maintain a website, host server space, etc., and other Wikipedia users can help us stay on top of things like plagiarism. Everyone benefits this way; our program, our participants, and Wikipedia users across the world." 
To take a course like Britt's, please visit learn.wikiedu.org. Image credits: Open Media Ltd., CC BY-SA 3.0, via Wikimedia Commons; Mountainairy, CC BY-SA 4.0, via Wikimedia Commons.