This week, I'll join members of the National Women's Studies Association (NWSA) at the annual conference in Montreal, Quebec.
In December 2014, the National Women's Studies Association and Wiki Education began a partnership to improve Wikipedia's underrepresentation of topics related to women and women's studies. Instructors assign students to expand or create articles related to the course topic, and use Wiki Education's tools and instructional materials to design Wikipedia assignments that provide a positive learning experience.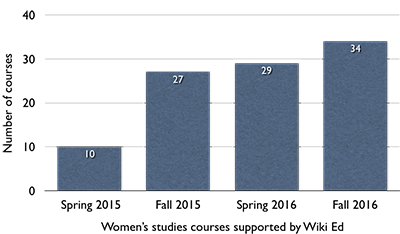 Since beginning our partnership two years ago, Wiki Education has now surpassed 100 supported courses within the discipline, activating nearly 2,500 students to help close the gender content gap on Wikipedia. They have added over 1.3 million words, largely on topics about feminism, sexuality, and gender studies, and we haven't reached the busiest part of the fall term yet.
Students brought to Wikipedia by this partnership are making a significant contribution to its coverage of these topics. Wiki Education's data science intern Kevin Schiroo found that NWSA students contributed 4.3% of new women's studies content to Wikipedia. That's a major portion of a site read by millions of people every day, and it's high-quality information. Students contributing to Wikipedia in a classroom have resources and tools at their disposal so that they're better prepared than almost any other new editor. They have expert instructors to guide the way, access to a wealth of research in the university library, and Wiki Education trainings and milestones to learn how to participate on Wikipedia.
This is one reason we keep coming back to the NWSA conference. Since most attendees have an acute sense of underrepresentation of communities and knowledge, they have observed problems with Wikipedia's information related to women and women's studies themselves. When they realize other instructors are leveraging their role in the classroom to curb this problem, they're thrilled to chip in. As the number of courses in this partnership steadily increases, we look forward to seeing the greater impact to Wikipedia.
I'll present to attendees on Sunday, November 13th, from 9:30–10:45am. I will highlight Wikipedia's gender content gap, review NWSA's impact to Wikipedia, and discuss the educational benefits of editing Wikipedia.
I'll also spend the week in the exhibit hall, eager to talk about Wikipedia and how we can make it a better resource for the world. Stop by and see me in the exhibit hall to discuss Wikipedia assignments and their role in helping curb the gender content gap. If you've taught with a Wikipedia assignment, I'd love to meet you in person and discuss your experience:
Thursday, November 10th, 3:00–7:00pm
Friday, November 11th, 9:00am–6:00pm
Saturday, November 12th, 9:00am–6:00pm
Sunday, November 13th, 11:00am–12:00pm
Please join me at this year's National Women's Studies Association annual meeting. If you're interested in teaching with Wikipedia, email contact@wikiedu.org.