In May, I continued our efforts here at Wiki Education to expand our visibility. This time, by hosting two webinars for interested institutions. On Wednesday, May 23rd I called into the Wikipedia session at Fordham University's Faculty Technology Day. And on Tuesday, May 29th I spoke with faculty at Eckerd College. I'm excited to work with these institutions and support classroom assignments for their instructors in the 2018-2019 terms. Here were some of their questions:
How do I know what topics my students should work on?
This is always a tough question. Not because there aren't gaps out there, but because there are so many, it's often hard to dial down. The first step is to review our Finding Articles orientation for instructors. This helps you understand how to navigate Wikipedia's many article lists, WikiProjects, and assessment tables, to find articles related to your course topics. You can access this by logging into our Dashboard and reviewing our instructor orientation modules.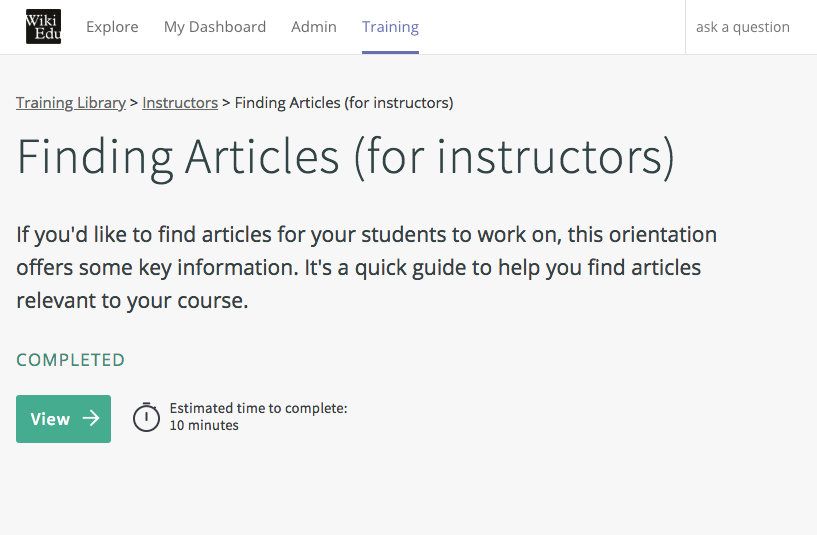 On top of the trainings, I also like to ask instructors to think about the level of students they'll be working with. For a freshman or intro course, a biographies project can help instill research around course content while providing students a clear pathway to success. After all, each biography on Wikipedia is expected to have clearly defined sections that make it easy to understand how to present and verify information.
For higher level courses though, instructors often want more thematic topics. That's where searching for key terms or phrases, or through WikiProjects and assessment lists on Wikipedia can be a great start.
Once you find ideas for your course, try verifying that the articles are in need of improvement by checking out its Talk page (found in the upper left of any article page). Is the article listed as a "stub-class" or "start-class" article? Great! Those are perfect for students to improve. Go ahead and add them to the Available Article list on your course page. Is the article "B-class" , "Good" , or "Featured"? Try finding a different, related topic with a little more room for expansion. And don't forget that Wiki Education staff are always available to answer questions about finding articles or specific topics you might want students to work on.
Can my students work in groups?
Yes! And in fact, the Wiki Education Authorship Highlighting tool will be able to show you at the end of the term exactly what each student in a group has contributed to their project. Take the article about the broad form deed, a legal document that allows people to purchase rights to minerals and other resources below the surface of a property line. This is a new article created by students this Spring 2018 term, but how do you know what each student contributed? Using our authorship highlighting tool, you can see what the three assigned students each contributed, color coded to their username in either purple, red, or yellow. One student worked on the early history, another on the 1950s-80s, and another on the 90s leading into the end of the deeds use and the legacy of the split estate. Pretty cool! Our advice is that each student in a group is still required to take the trainings individually, but that they work together to select sections to draft individually, all leading into a lead section updated or written together, and with sources they've compiled together as well.
How long are the trainings?
Each week, students are assigned to take a training to develop the skills they need to complete that week's assignment. Each training is designed to be less than 10 minutes of skill learning. For example, is this the week where your students are selecting their topics? If you've selected that they can choose their topics themselves, they will be assigned a short training that guides then through the article finding process. Is this week their peer review? Students are assigned a short training that guides them to where they should leave their comments (the answer: the Talk page of their peer's Sandbox) and what they should be looking for during the review process.
The exception to this are the first two or three trainings, which help students build up their basic understanding of how Wikipedia works, what the policies are, and how to differentiate the different spaces on Wikipedia (what is a Talk page anyway?).
For more answers to our most common questions, feel free to log into our Dashboard, get set up as an instructor, and review our full instructor orientation.
And if you and your colleagues are interested in learning more together, we'd love to run an online workshop for your institution as well. Here's what we'll need if you're interested:
Someone on campus to organize and promote the event via listserves and emails to faculty
A room on campus or online space for everyone to meet
A date and time confirmed
An interested group of instructors, no minimum attendance necessary (although more than 1 is probably a good idea!)