Institutions know that Wikipedia is educating the world about the topics they care most about. Many want to understand how they can get involved in curating that information so it paints the most up-to-date and accurate picture of these topics. Thais Morata, a research audiologist at the National Institute for Occupational Safety and Health (NIOSH), and her group of collaborators have done that. And now NIOSH has recognized those efforts by awarding their Bullard-Sherwood Research-to-Practice Award in the category of Knowledge.
Over the last few years, Morata has been part of a team leading NIOSH in a broad, multi-faceted strategy to educate the public by contributing up-to-date, comprehensive, and accurate occupational safety and health information to a variety of Wikimedia projects. She has been using our resources and support to help students write for Wikipedia since 2016. And she works with multiple university classrooms to channel work students are already doing into a space where the public can have access to it.
Thais Morata joins fellow winners and collaborators Max Lum, John Sadowski, Tania Carreon-Valencia, Diana Ceballos, Mary Beth Genter, Erin Haynes, Lilian Jacob Corteletti, Regina Tangerino de Souza Jacob, Adriane Lima Mortari Moret, Natália Barreto F. Lopes, Alexandre Montilla, João Alexandre Peschanski, Douglas Scott, as well as Wiki Education's Helaine Blumenthal and Ian Ramjohn.
"I am thrilled to have the group recognized for our efforts," Morata told Wiki Education. "I feel privileged to be in a position that made it possible for me to bring them together. Some in the group knew it was a good idea, but they did not know much about the other contributors. Others knew the contributors and what they had to offer, but they were not totally sure it was a good idea. So it took courage and generosity from each of them, and it feels wonderful to have these traits rewarded. This effort reminded me of the Brazilian poem Weaving the morning by João Cabral de Melo Neto that starts: A rooster alone does not weave one morning: He will always need other roosters. It is the spirit of this group and Wikipedia."
As NIOSH's award booklet states, the connection between Wikipedia and NIOSH's mission is obvious: "NIOSH efforts not only contribute to Wikipedia's goal to freely share information, but also towards its own mission of translating research into usable information."
And it's a positive, important experience for students learning science communication. "A common response among students was that they 'enjoyed writing to be read' and not just 'to be graded.' All partners involved in this initiative learned something about science communication and digital literacy while contributing solid, verifiable knowledge about health to the public and reducing misinformation."
"Not only does this work expand the reach of accurate occupational safety and health information, but it helps train a new generation on science communication and digital literacy."
"It was very generous of Thais to include us in the nomination," Wiki Education's Senior Wikipedia Expert Ian Ramjohn said. Ian has supported Morata's courses through our Student Program, along with Wikipedia Student Program Manager Helaine Blumenthal, since 2016 by answering student and instructor questions, reviewing student work, and navigating any on-Wikipedia conflicts around policy.
"I'm happy to be able to support the great work that so many of our partners are able to turn out, using the tools and support we provide."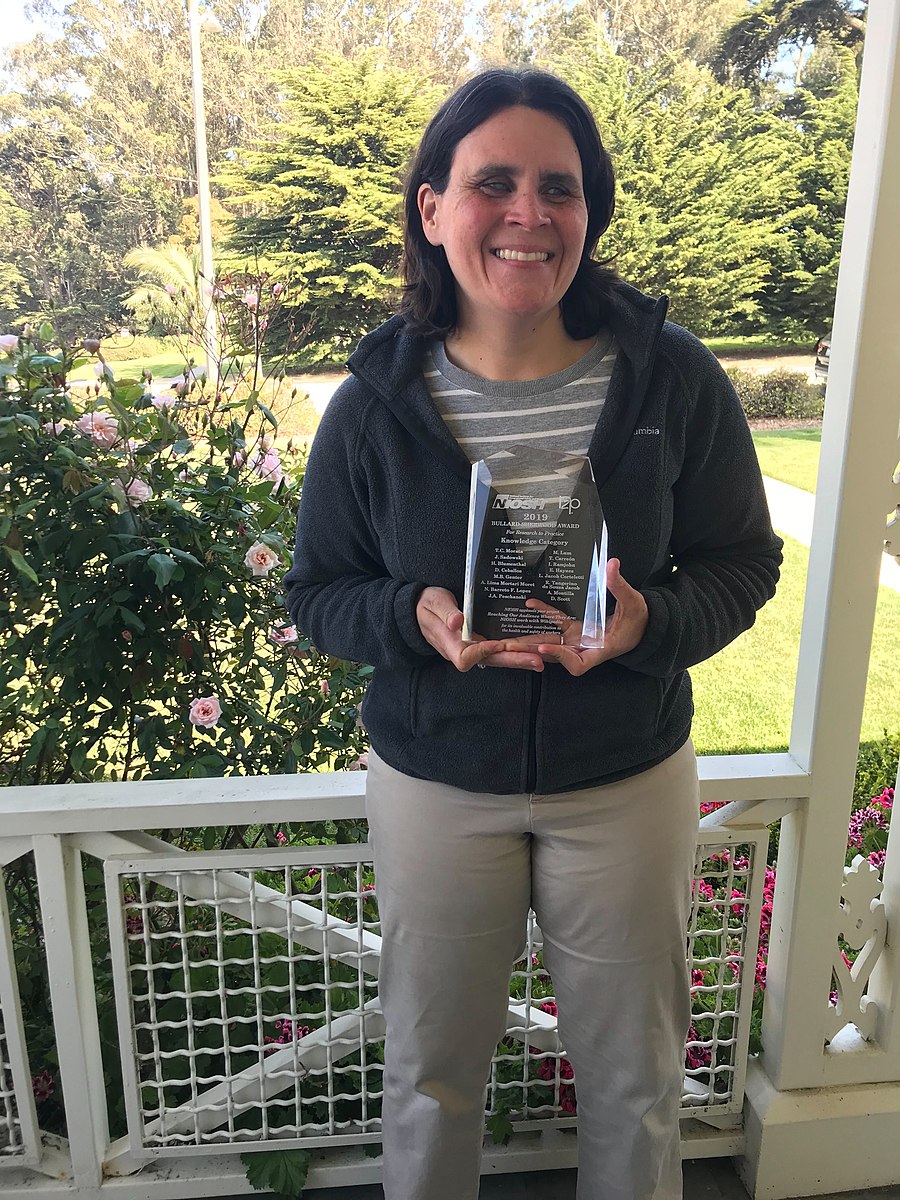 Both Ian and Helaine noted that the award is a great reminder of why we do what we do at Wiki Education.
"It's so easy to focus on the day-to-day – answering questions, solving problems, picking through drafts to help student editors improve their contributions – and lose perspective on the impact of what we're doing," Ian noted. "It's great to have an outside group like the NIOSH award judges look at the work that Thais and her group have done and see it in the broader context of their mission."
"I joined Wiki Education because I believe strongly in its mission of making knowledge freely available to all, but it's easy to forget that lofty goal amid the day to day grind," Helaine also noted. "When I found out that we won the NIOSH award, I was reminded of what our work means for real people trying to seek or share real information. I was pleasantly surprised and truly touched when the physical plaque showed up in the office. It's a nice reminder that what we do really does matter."
---
The award nomination did not include all the work covered in NIOSH's Wikipedia strategy, which can be found here.  Some of the classroom efforts were described here. This award was for activities conducted in 2018 only. Not all who participated in previous years could be included.
---
Interested in teaching a Wikipedia writing assignment? Visit teach.wikiedu.org to access our free assignment management tools, student trainings, and more.