Wiki Education launched the Dashboard in 2015 and it has truly been a game changer for instructors and students running Wikipedia assignments. Since that time, we've been steadily improving the Dashboard so that instructors can more easily facilitate their Wikipedia assignments; students can make meaningful and lasting contributions to Wikipedia; and so we here at Wiki Education can provide the most effective and efficient support possible to all of our program participants. This fall, we've launched a series of changes that will streamline how and where students do different portions of their Wikipedia assignment.
One of the more challenging aspects of the Wikipedia assignment is understanding Wikipedia's "namespaces". It can certainly be confusing to discern sandboxes from main space, and userpages from talk pages. That's why we've now built in special pages for different aspects of the Wikipedia assignment to eliminate these ambiguities, all of which are incorporated into the Dashboard and student trainings.
Two examples of these changes are where students will do their Article Evaluations and their Peer Reviews (two exercises that fall in different weeks in our assignment template). As students walk through these exercises they'll be instructed to launch special pages that we've populated with useful templates.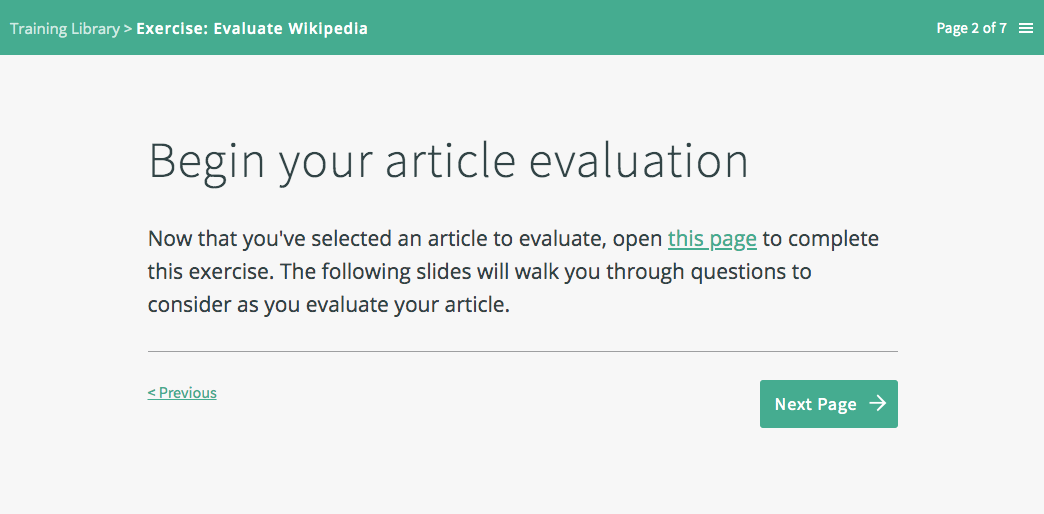 When students launch these pages, they'll be presented with clearly laid out instructions on how to critically evaluate Wikipedia articles or how to review their peers' contributions.

We've developed similar templates where students can house their bibliographies as well as begin their drafts among others.
Another new feature on the Dashboard is the My Articles section that students will see on the Home page of their Dashboard course page. Students can now more easily assign themselves articles to work on, as well as find and review their peer's work. Students will be able to access many of these templates from the My Articles section so they'll always know where to find their work.

The Wikipedia assignment is no doubt a departure for most instructors and students, and we hope that the above changes make it a bit less daunting for newcomers to the site!
---
For more posts about Dashboard feature updates, check out the digital infrastructure category on our blog. To learn more about the Dashboard, visit teach.wikiedu.org.