Facebook announced a new policy last week banning "deepfakes", or digitally altered videos, from its platform. Not surprisingly, thousands turned to the Wikipedia page about deepfakes to understand more. Thanks to University of Southern California students from Helen Choi's course last fall, the page provides some helpful context.
In the last few years, the world's favorite online encyclopedia has taken up more space in conversations around the spread of misinformation online. Unlike the early days of the site, society increasingly attests to its power as a force for good in its ability to provide reliable information, rather than a culprit for the bad. Social media giants like Youtube (a huge influencer of our online landscape now) even point their users to Wikipedia pages alongside videos about conspiracy theories to combat misinformation.
This January 15th, Wikipedia's birthday, is a great opportunity to reflect on the importance of Wikipedia not only in our cultural landscape, but also in an individual student's life. In the days where students have trouble distinguishing fake news sites from reliable ones, getting them involved in making Wikipedia better equips them with skills to navigate the information they encounter online with a critical eye.
Through our Student Program, Wiki Education helps instructors teach Wikipedia writing assignments like the one in Helen Choi's course at the University of Southern California. In this particular course, 18 students added 17,000 words of content and 226 references to 8 pages on Wikipedia. Those pages have since been viewed 220,000 times.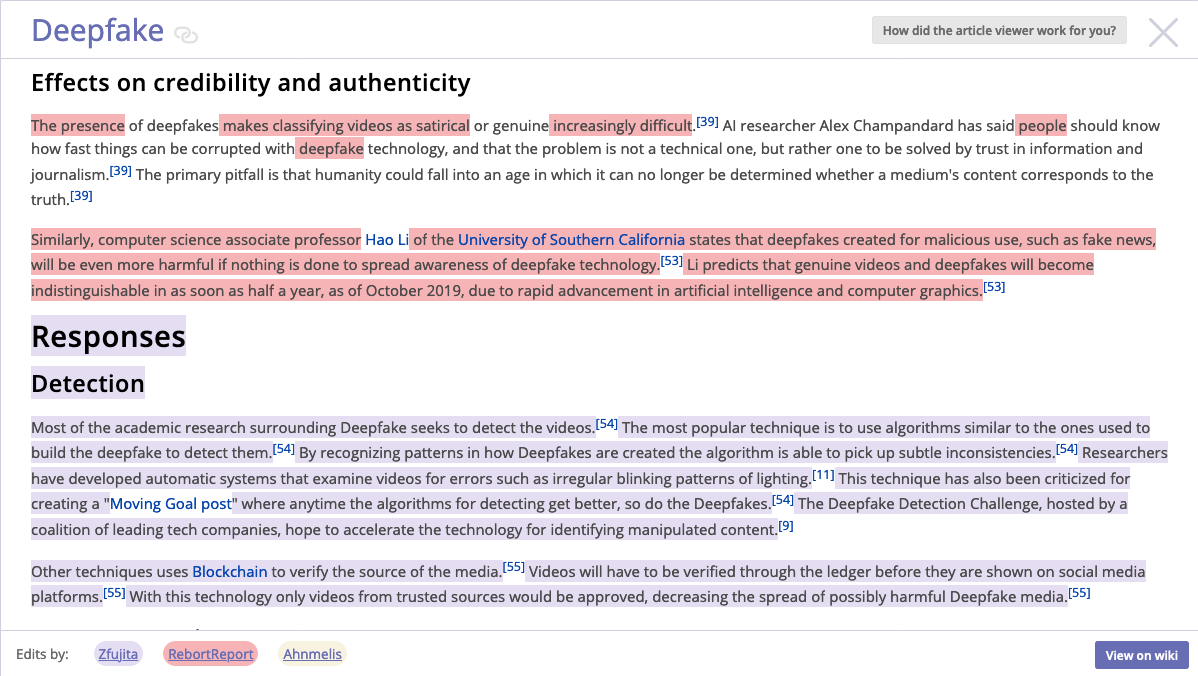 The deepfakes page, specifically, sees about 2,500 views a day, but it spiked to more than 6,000 in the days after Facebook's announcement. Your students have the power to participate in cultural discussions on a mass scale by providing the public with well-sourced summaries of the latest research in your field.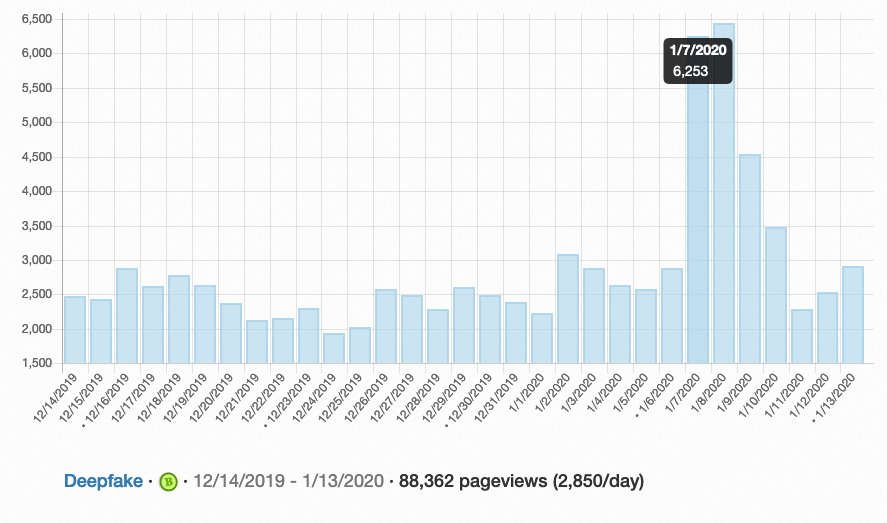 In an assignment like this, you as the instructor share your expertise with students; help them put together well-researched, summarized content; and use Wiki Education's free classroom resources to help get that information onto Wikipedia. It means students take an active role in fighting misinformation on the very platforms that they consume.
Whether you consider Wikipedia to be a fact-checker, a work-in-progress, or a nuisance, its ubiquity makes understanding how it works critically important. Wiki Education helps de-mystify those inner-workings, inviting people into the community and giving them appropriate training and tools to improve the site's accuracy. The result is a more well-informed public.
---
Interested in incorporating a Wikipedia writing assignment into a future course? Visit teach.wikiedu.org for all you need to know to get started.
---
Students fight misinformation through a Wikipedia assignment in a variety disciplines. Read more about how a medical student is helping correct misinformation about vaccination.