This is a republishing of a WITH Foundation blog from May 7, 2020.

---
As many of you know, the WITH Foundation and our grantees are working toward inclusive and transformative healthcare. A facet of this work involves making information about disability and healthcare accessible for people who are looking for it. which is why we're sponsoring this opportunity for experts to learn how to add information to the site through Wiki Education's Wiki Scientists courses. We'd like to invite you to consider joining the second cohort of WITH Wiki Scientists. Apply now for a seat in the June-August course!
Why Wikipedia?
Wikipedia as an avenue for fortifying public information with the most evidence-based, current research out there. Wikipedia is also a place to translate research into accessible language for a general, non-academic audience. Information can be empowering and reduce stigma. This Wiki Scientists course is a chance to invite more people into the Wiki community for disability advocacy and to give back to the information resource we all know and use.
A Wikipedia training course for experts
In February of this year, we supported the first cohort of Wiki Scientists to embark on this WITH-sponsored mission. The group included healthcare professionals and advocates,; behavioral therapists, nonprofit leaders, researchers, and academics; and disability activists. We were thrilled that people were drawn to the course across such a diverse range of fields, united by their passion for information access and health advocacy. The overwhelming interest in our first cohort just helped drive home that Wikipedia is a great way to bring these experts together for a common purpose.
The cohort of 17 wrapped up their course last week and added more than 11,000 words to Wikipedia pages related to disability, disability healthcare, and activism. These pages have already been viewed 130,000 times since the group began making improvements. Here are some highlights: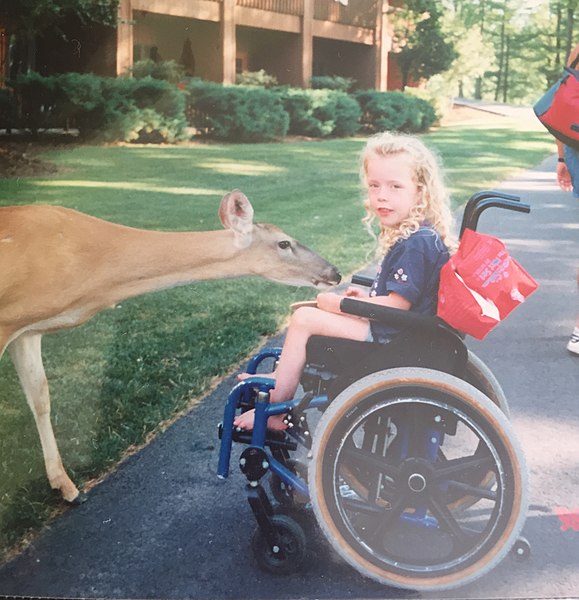 Kathleen Downes, a licensed social worker and one of our WITH Wiki Scientists, was less than impressed with the depiction of spastic cerebral palsy on Wikipedia. She uploaded a photo of herself as a child to the page and made numerous improvements to the content. "A difficult task is finding information written by disabled folks themselves," Kathleen wrote in a blog about her course experience. "I hope that a parent whose kid was recently diagnosed will Google spastic cerebral palsy one day, find my page, and realize it's not all doom and gloom."
Another great example of how powerful the course can be for increasing access to well-researched information can be seen in the improvements made to Wikipedia's page about muteness. Another Wiki Scientist added brand new sections that hadn't existed on the page before, including more information about organic causes, psychological causes, developmental and neurological causes, and treatment. They also doubled the references cited throughout the page. Click here to see the "before" and here to see the page's current state with the improvements.
And the page on the Civil Rights Act of 1968 didn't cover how the Fair Housing Act applies to people with disabilities before a Wiki Scientist added a sub-section devoted to the subject. This page alone has received 26,000 pageviews since February.
How to apply
Wiki Education and the WITH Foundation believe that involving experts in adding content to Wikipedia can have a lasting impact. We encourage disability healthcare scholars, disability healthcare practitioners, and/or disability studies scholars to apply. Scholars and practitioners with disabilities are strongly encouraged to apply!  Want to be a part of the movement? Join the next course!
Course dates: June 15 – September 4 (12 weeks). Meeting time will be determined via the registration form based on registrants' shared availability.
Time commitment per week: 1 hour virtual, collaborative meeting; 2 additional hours of independent work
Cost: The full cost of enrollment in this course is covered by the WITH Foundation.
Goal: to improve healthcare and disability-related pages on Wikipedia, the most utilized healthcare resource in the world.
Apply here by May 29th, 2020. Applicants will be notified of acceptance status by June 8th,
Read more about the course by visiting wikiedu.org/WITH