The American Physical Society (APS) sponsors instructional courses through Wiki Education to help increase the accessibility of physics information and research online. Their dedication to communicating science with the public is easily supported by the Wikipedia platform and Wiki Education courses, which invite scholars and scientists to take part in increasing the quality of information on the web.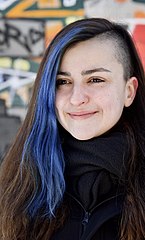 Phila Rembold is a PhD student in theoretical physics who signed up for a Wiki Scientists course to complement the outreach component of her PhD program. The course allowed her to explore her curiosities with Wikipedia as a long-time user of the platform and as a physics researcher. 
"APS communications had emailed my supervisor who forwarded the invitation to the group. I had not done much editing before and thought this would be a good way to initialise my efforts. In general I think you can learn twice as fast with someone to teach you," Rembold says. 
Rembold reflected on Wikipedia's connections to her research field as well as her identity as a woman in STEM.
"As a woman in theoretical physics I often find myself as part of the minority," Rembold says. "By making articles more accessible I am hoping to support those who are relying on openly available sources to familiarise themselves with physics, hence encouraging them to proceed in that direction. To become a good researcher you shouldn't need privilege, just a healthy amount of curiosity and stubbornness."
Equity on Wikipedia is especially important to Rembold, who sees the platform as a pathway towards reducing gender biases in fields like physics.
"Language is a powerful tool for fighting discimination and the way we use it is shaped by what we read. Field relevant Wikipedia articles will be read by almost all my current and future colleagues. Hence, editing those articles means implementing a standard of communications and removing bias from our community (at least to a certain degree)," Rembold says. 
Following her Wiki Scientists course, Rembold continues to contribute to Wikipedia pages within her research specialty of quantum physics. 
"During the course I had started restructuring the article on nitrogen-vacancy centers, among others, and cutting redundancies. Afterwards I worked with two of my coursemates to improve the article further. They helped me to improve my writing and suggested which explanations needed fine-tuning, as well as improvements for the figures," Rembold says. 
Rembold also shared words of encouragement for budding scientists and professionals who may be interested in learning more about how to edit Wikipedia. 
"I have talked to a few of my friends who are still undergraduates, who expressed interest in applying what they have learned in their university courses/readings to expand Wikipedia. All in all I think there are many advantages from an outreach and teaching perspective," Rembold says.
Rembold now approaches Wikipedia as an active participant in its changing landscape. With a mantra of equity through open data spanning a variety of disciplines, Wiki Education is proud to facilitate better representation on Wikipedia and Wikidata. 
Alongside advocating for better representation on Wikipedia, Rembold stands behind the charity of Wikipedia, as it allows scholars and scientists to give back to the public through their contributions. 
"I think this course should be mandatory for PhD students. It has been a lot of fun and very educational," Rembold says. "Furthermore, it gives an opportunity to give back to the people, as most of us are funded from public sources. I think it should generally be a larger part of research to convey the basics if not the outcomes of one's work to the public."
To take a course like the one Phila took, visit http://learn.wikiedu.org
Featured Image Credit: BonPhire, CC BY-SA 4.0, via Wikimedia Commons
Hero Image Credit: Pivari.com, CC BY-SA 4.0, via Wikimedia Commons